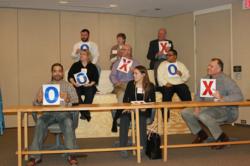 Our Gilbane Cares philosophy isn't a campaign or a slogan. It's the way we do business.
Providence, RI (PRWEB) January 22, 2013
With a company wide focus on promoting and strengthening the role of diversity both within Gilbane and the construction industry, Gilbane is holding its annual Diversity Week this week. This year's theme, Building Winning Partnerships, recognizes that our best teams are made up of people from different backgrounds with different experience.
"Our business is about people," says William J. Gilbane, Jr., president and chief operating officer. "From our employees to the suppliers and contractors we work with to our clients, we have various strengths and views we bring to the table. When we embrace one another's differences and understand that with those different perspectives comes a greater understanding of the task at hand, we can truly offer our employees the chance to shine and our clients the best service. Our Gilbane Cares philosophy isn't a campaign or a slogan. It's the way we do business."
Employees in office locations around the world will be commemorating Diversity Week in various ways, ranging from community service efforts such as food drives, group volunteer efforts at local shelters, and fundraisers to fun "getting-to-know-you" exercises including Lunch with an Unfamiliar Friend, employee success stories, and trivia contests.
About Gilbane, Inc.
Gilbane provides a full slate of construction and facilities-related services – from pre-construction planning and integrated consulting capabilities to comprehensive construction management, close-out and facility management services – for clients across various markets. Founded in 1873 and still a privately held, family-run company, Gilbane has more than 60 office locations around the world. For more information, visit http://www.gilbaneco.com.