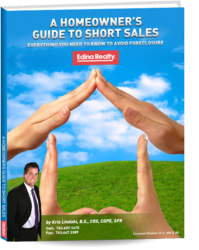 The least I can do is address the community's concerns.
Mendota Heights, MN (PRWEB) January 23, 2013
Kris Lindahl of Edina Realty held a short sale seminar yesterday afternoon in Mendota Heights, MN. The seminar saw full attendance with some standing room only. Lindahl is Edina Realty's number one short sale agent. At the seminar Lindahl walked through the short sale process using past and current examples from his experience. Each step included strategies and resources involved to help along the way.
Following the presentation Lindahl held an hour long Q&A session in which he answered general and personalized short selling questions. "It was great to get out and be able to answer those questions," Lindahl said, and continued, "The least I can do is address the community's concerns."
Kris recently received the Chairman's Award from Edina Realty for excellence in sales and sales volume. The Chairman's Award is the highest honor an Edina Realty agent can receive.
Call Kris and his team at (763) 607-1415 for more information. Visit the Minnesota Short Sale Calculator website to check eligibility. Download a complimentary copy of the eBook titled "A Homeowner's Guide To Short Sales" and check out the video series on YouTube.