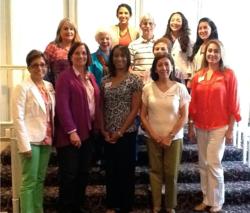 LAWA has impacted the lives of Latino college students with over half a million dollars in scholarships over the last 20 years. Carnival Charlotte is our major event to raise funds for our educational programs. - Ana Lemley, Board Chair
Charlotte, North Carolina (PRWEB) January 23, 2013
The Latin American Women's Association (LAWA) of Charlotte is pleased to announce the 20th annual Carnival Charlotte on Saturday, February 9th, 2013, at the Hilton Hotel in downtown Charlotte.
This year, Carnival Charlotte's theme will feature the Brazilian Carnival and Mardi Gras. As the world turns its attention to Brazil for the 2014 World Cup and the 2016 Summer Olympics, Carnival Charlotte promises to be an original blend of the cultures of this hemisphere. Carnival Charlotte will feature dance and music entertainment from Charlotte and beyond, including a professional Brazilian Samba dancer and a magic show, and will showcase Carnival outfits.
At LAWA's biggest fundraiser, Carnival Charlotte guests will enjoy a delicious Brazilian meal including Rodizio-style beef and a Live Auction featuring brand-name clothes, jewelry, and other valuable offerings. Guests may also bid in a silent auction. Tickets are $150 for the general public and can be purchased at http://www.lawanc.org under "Upcoming Events", or by calling 704.552.1003.
Proceeds help fund about two dozen college scholarships each year for Hispanic youth and women, among LAWA's other philanthropic works.
LAWA celebrated its 20th year as the firsteducatiional organization in Charlotte dedicated to helping the Hispanic community. Started by a group of Charlotte women, the organization's central mission continues to be to support Hispanic high school students in achieving a college education with the help of academic scholarships. From two scholarships, LAWA's support has grown to 29 renewable scholarships. LAWA also provides college scholarships to young Hispanic women over the age of 25 to start or resume their college careers. LAWA's scholarship recipients demonstrate active involvement with the Hispanic community, even though many also maintain paying jobs and raise children.
LAWA has helped the Charlotte-area Hispanic community to leverage its intellectual talents and artistic creativity to address area problems. Their grassroots approach also provides its members with ample opportunities to make friends and have fun while serving their communities. To prepare for Carnival Charlotte, Charlotte-area women gathered at member Anneliese Horst's house to make Brazilian-style masks, using artistic gifts that many women did not know they had. LAWA inspires its members to contribute their many gifts and talents. According to LAWA member Alejandra Elliot, "the enthusiasm of working for LAWA is contagious. It inspires family members to participate in community activities."
To see LAWA's blog on mask-making, please visit http://www.anaclta50.blogspot.com/.
LAWA's other big annual event, the Latin American Festival, will be held in Charlotte in October.
LAWA's "Dancing for Diversity" after-school program teaches Latin American dance styles and techniques to students in four under-privileged elementary schools in Charlotte-Mecklenburg.
LAWA's "High School Series" helps Hispanic high school students, who face 64% dropout rates, to navigate the pre-college experience. As part of its continued growth, LAWA has established relationships with various local businesses and other non-profit organizations to publicize events and job openings in Charlotte. Contact Executive Director Violeta Moser at 704-552-1003 for more information on membership and sponsorship.