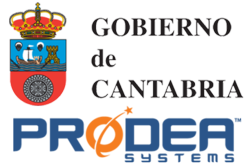 SANTANDER, SPAIN, and PLANO, TX (PRWEB) January 22, 2013
Prodea Systems is teaming up with the Government of Cantabria, Spain, as the first step in the deployment of its European-wide e-Health service to address the European Commission's Action Plan for healthcare systems. Prodea Systems delivers discrete, inexpensive but high quality integrated care and chronic disease management with its innovative e-health platform. By combining the best of home health care with education, social interaction, and system automation, Prodea delivers new tools for patients and healthcare providers to improve patient compliance to treatments and general wellness programs, resulting in healthier populations while reducing overall cost.
National Healthcare Budgets in Europe currently represent between 8% and 12 % of GDP, and from 30% to 40% of the annual budget for countries such Spain and Italy. The national budget for Healthcare was over 83 Billion Euros for Spain alone. Prodea is targeting cost reductions of about 20% to 30%, while addressing three critical chronic diseases that represent approximately 70% of healthcare costs: diabetes, obesity, and cardiovascular deficiencies.
"With our innovative technology, Prodea Systems brings healthcare closer to people and improves the efficiency and quality of healthcare systems. We found in Santander the perfect place to showcase our advance and comprehensive eHealth solution and to demonstrate its benefits to the world. We thank the Government of Cantabria for enabling us to participate in the opportunity to make this vision a reality," said Dr. Anousheh Ansari, CEO of Prodea Systems.
Prodea is teaming up with a selected number of local partners and healthcare organizations to deliver a complete ecosystem of eHealth services, based in Santander. Santander is rapidly becoming an international hub for innovation in medicine and information technology. This has made Cantabria an ideal base for deployment of the Prodea eHealth platform as the gateway to deliver services in Spain and beyond.
The initiative in Cantabria is also aligned with national policy, as noted during the June, 2012 meeting in Madrid between Minister Ana Mato and Dr. Ansari held at the Ministry of Health, Social Services and Equality, in which the project was received with great interest, and was identified as directly aligned with the priorities of recent department budgets. "e-Health is one of the most innovative areas, and Santander is becoming a hotbed to test and deploy new technologies. We welcome the opportunity to work with Prodea Systems as a long term partner to take steps in realizing the vision of a better and more cost effective healthcare system for our citizens and people everywhere. Cantabria and Santander offer unique conditions to attract leaders in hi-tech across a number of disciplinary fields. We are pleased that Prodea has selected Santander as an operational base, to work closely the key players already part of our Science and Innovation Park," said Mr. Ignacio Diego, President of Cantabria.
About Prodea Systems:
Prodea Systems, based in Plano Texas, is a privately held company formed by the Ansari family, inventors and proven entrepreneurs with a history of building companies based on industry-changing technologies. Prodea Systems is their latest endeavor to address the challenges of today's increasingly complex digital lifestyle and connected small business environment and combine state of the art technology and simplicity in a single solution for the everyday consumer. Additional information can be found at http://www.prodeasystems.com.