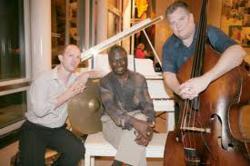 "John A Lewis is committed to developing a distinctive sound," James Stapleton, The Sounds of Jazz, KNON 89.3.
Dallas, TX (PRWEB) January 24, 2013
The Dallas based John A Lewis Trio will be performing a one hour presentation of music from their latest critically acclaimed recording "Progenation" Valarteri records #008 at the Broadway bistro in Carrollolton, Texas on the Square Saturday January 26th from 6:00 until 7:00 pm. They will also be featuring music from their soon to be released recording "Def Jazz" also on the Valarteri label.
The trio consists of pianist/composer and leader John A Lewis Basses, and co-producer Lincoln Apeland drummer and co-composer Merik Gilett.
The trio has been performing in the Dallas Ft. Worth area at jazz clubs restaurants and in concert at such venues as the Sammons Center for the Arts, Sandaga 813 and the Dallas Museum of the Arts.
The trio has a style that has been described as "hypnotically pleasant" by Jazzinside magazine July 2012. There is however an edge to their music. The trios repertoire consists of straight ahead, bossa, Latin tinged and odd meter tunes that display the presence of bitonallity chromaticism.
The trio is committed to developing a distinctive style.
You can check out the activities of the John A Lewis Trio on Facebook. And you can purchase the trio's recording at cdbaby.com. Also visit John A Lewis's website johnalewisjazz.com