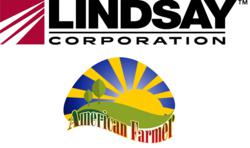 Omaha, NE (PRWEB) January 23, 2013
Lindsay Corporation will be featured in an upcoming episode of American Farmer.
Lindsay has irrigation systems operating in more than 90 countries. As a Nebraska-based company, Lindsay is strong and dependable – much like the small town roots that the company originated from. Tough, dependable Zimmatic by Lindsay irrigation systems have been the choice of the world's irrigators for over 50 years. The company's success comes from finding a better way to irrigate almost any crop on varied terrain and soils to increase yields and better utilize natural resources.
This particular episode of American Farmer will focus on Lindsay's innovative products. Audiences will be amazed by the range of innovative products that Lindsay has to offer. With proven results in varying terrain, cropping situations, and irrigation requirements season after season, Zimmatic by Lindsay provides growers with high-performing irrigation systems.
"Lindsay offers growers complete irrigation solutions, from pump to pivot," said Richard W. Parod, Lindsay Corporation President and Chief Executive Officer. "With so many product choices and plug-and-play options, Lindsay can engineer a unique system that maximizes time, labor and water savings for each grower's individual needs. We are proud to have our highly-efficient irrigation products and technology featured on American Farmer."
"Lindsay has been in the irrigation business for more than 55 years," said Charlie Cowan, Producer for the American Farmer series. "Lindsay's products are cutting-edge, and I'm looking forward to sharing this information with our viewers."
About Lindsay Corporation
Lindsay Corporation is a leading provider of automated mechanical move irrigation equipment and of traffic safety products. The Company manufactures and markets center-pivot, lateral-move and hose reel irrigation systems which are sold through its worldwide network of dealers. The Company's Zimmatic, Growsmart and Greenfield brands are highly recognized for their quality and technological leadership. The Company also manufactures and markets infrastructure road safety and congestion mitigation products through its wholly owned subsidiaries Barrier Systems Inc. (BSI) and Snoline S.P.A. In addition, the Company produces large-diameter steel tubing and railroad signaling lights and structures.
For more information on Lindsay Corporation, visit: http://www.lindsay.com or call 800.829.5300.
About American Farmer:
American Farmer is a breakthrough program on a mission to showcase the latest advancements in agriculture and farming. From seed to harvest, livestock and more, our producers have traveled the country covering the people, places and issues impacting all areas of farm country.
For more information, visit: http://www.americanfarmertv.com or call (866) 496-4065.
Media Contact:
Charlie Cowan, Producer
(866) 496-4065 x 875