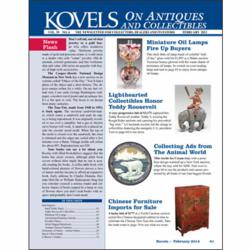 Cleveland, Ohio (PRWEB) January 30, 2013
The February 2013 "Kovels on Antiques and Collectibles" newsletter is now available in print and online.
Presidents' Day is the third Monday in February and Kovels' February issue celebrates Theodore Roosevelt's presidency with a sale report on Theodore Roosevelt (TR) collectibles. The lighthearted group of items decorated with caricature images of Teddy Roosevelt was part of a larger sale of historically significant presidential memorabilia sold at an Ohio auction. A small nodder with Theodore Roosevelt in his Rough Rider uniform riding on an elephant and carrying his proverbial "big stick" sold for over $3,000. It was the top priced TR collectible in the sale. Pictures and prices of a Schoenhut TR safari figure, a TR character jug and even a coffee grinder picturing TR on horseback are also included in the sale report. And as Kovels' celebrates Teddy Roosevelt, they also celebrate the 1902 "birth" of the teddy bear, named after TR. Twenty well-loved Steiff teddy bears auctioned in Massachusetts and Kovels' February newsletter pictures many along with their selling prices. A New York auction of advertising collectibles included many items that featured animals to sell products. A large Grape-Nuts cereal sign that pictures a little girl walking to school with her big St. Bernard dog in mint condition sold for an amazing $8,910, while a Smokey Bear ceramic bank went for $99. Pictures, prices and descriptions of other "animal" ads are in Kovels' February issue.
Discover Alfred Daguet, a French metalwork artist of the Art Nouveau period, and find pictures and prices of some of his work that sold at a Cincinnati auction. Miniature oil lamps from the Victorian era that sold from under $100 to over $1,000 at a Maine auction are also featured, as well as Pewabic pottery that sold at auction in Cincinnati, and 18th- and 19th-century Chinese furniture that sold in North Carolina. Terry Kovel writes about "Hobnobbing in Miami Beach" at Art Basel and Design Miami. Regular monthly features are here, too—February's Dictionary of Marks pictures marks shaped like animals, the popular illustrated Collector's Gallery has answers to readers' questions about a "Nat" paperweight, a William Tell mechanical bank, a telephone stand and an old wooden washing machine, and the Buyer's Price Guide lists current prices of dozens of antiques and collectibles.
With its mixture of expert advice and reports on what's hot in the market, Kovels' newsletter has something to offer for both beginning and experienced collectors. "Kovels on Antiques and Collectibles" is available as a print subscription or as a digital downloadable version that is part of the Kovels.com Premium subscription.
Terry Kovel, well-known columnist and author, gives information and advice on collecting. She will discuss antiques and collectibles topics with accredited media. Photographs are available. Contact pr(at)kovels.com.
About Kovels.com
The online website, Kovels.com, created by Terry Kovel and Kim Kovel, provides collectors and researchers with up-to-date and accurate information on antiques and collectibles. Kovels' Antiques was founded in 1953 by Terry Kovel and her late husband, Ralph. Since then, Kovels' Antiques has continually published some of America's most popular books and articles about antiques, including the best-selling "Kovels' Antiques and Collectibles Price Guide," now in its 45th edition. The Kovels' website, online since 1998, and free weekly email, "Kovels Komments," give readers a bird's-eye view of the market through up-to-date news, auction reports, an online Price Guide, a Marks Dictionary, readers' questions with Kovels' answers and much more.
Contact Information:
Liz Lillis
216.752.2252
Pr(at)kovels(dot)com