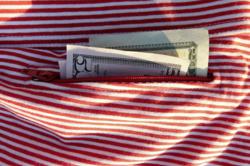 Pick-pocket proof travel gear.
(PRWEB) January 30, 2013
The Clever Travel Companion has integrated hidden, secure, pockets into the clothes worn underneath regular gear: underwear, tank tops and T-shirts. Pockets holds passports and more and are placed for maximum comfort and security. This way, not only will no pick-pocket ever get to a persons valuables, they won't even know it's there.
For travelers going off the beaten path, spending time in crowded areas or having to sleep on trains, ferries or buses with strangers, knowing that ones valuables are safely hidden is extremely important. No pick pocket can get into the Clever Travel Companion's gear and just as important, it is impossible to accidentally misplace the gear and the valuables since it is always on! For those doing sports, skiing and snowboarding, bungyjuming, river rafting, horse back riding and the likes, keeping passport and money safely locked in the pockets make for more fun sports knowing there is no need to worry about who can access ones stuff.
The Clever Travel Companion's travel gear comes in multiple colors, fine soft cotton or modal, from XS to XL and are available at http://www.clevertravelcompanion.com and on amazon.com and amazon.co.uk. They cost 24.90 for the underwear and 29.90 for the tanks, tees and long johns.
Press images are available here: http://www.clevertravelcompanion.com/pages/press-images
More information is available here http://www.clevertravelcompanion.com/pages/media
And in our blog too: http://www.clevertravelcompanion.com/blogs/news
Please email me if you have any questions or need more information.
All the best,
Lisa
Clever Travel Companion