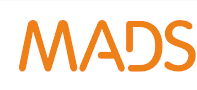 "With MADS ONE, we are now able to offer our clients all the advertising possibilities that they look for on our mobile traffic" said Marita van Wijngaarden, Global Head of Sales and Products at eBuddy.


Amsterdam, The Netherlands (PRWEB) January 23, 2013
MADS, Europe's preferred mobile ad serving solution provider, and eBuddy, a leading provider of web and mobile messaging worldwide, today announce their partnership to bring highly targeted and rich media mobile advertising inventory to advertisers across the world.
By using MADS ONE, eBuddy can now give its advertising partners access to mobile advertising inventory in over 200 countries worldwide, enabling advertisers, agencies and brands to deliver highly relevant mobile ads on a global scale while still applying very precise targeting, including platform, social profile and geo-location.
eBuddy offers advertisers, using MADS ONE Rich Media Templates, a broad range of rich media ad formats, including Expandable Ads, Overlay Ads, Video Ads and Swipe Ads. These rich media ads will provide excellent opportunities for brand advertisers to promote their products and services amongst a massive mobile audience.
MADS ONE is the ad server of choice for over 200 leading media companies. The solution offers mobile media owners the broadest range of monetization strategies: premium, performance, RTB and backfill campaigns can all be managed from one single dashboard. Through MADS ONE, advertisers can apply very precise targeting including mobile platform, demographics and location. MADS ONE offers rich media advertising through easy to use templates and supports all MRAID compliant third party rich media ads. MADS ONE is the ad server of choice for over 200 leading media companies.
"We are excited to power eBuddy's global mobile advertising business. We believe that eBuddy's global audience becomes even more valuable to brand advertisers worldwide because of superb targeting and rich media possibilities" said Jasper de Vreugt, CCO at MADS.
About MADS
MADS delivers the technology powering the mobile advertising business of leading publishers, ad networks, broadcasters and operators. Our state-of-the-art ad server MADS ONE delivers ads to Mobile Internet sites, Desktop Internet sites and Tablets.
The combination of our excellent service and innovative ad serving features made over 200 leading media companies choose for MADS ONE.
Founded in 2006, MADS is a privately held company backed by venture funds HENQ and OTM Investments. MADS is headquartered in Amsterdam, the Netherlands, and has offices in London, Milan and Dnipropetrovsk.
About eBuddy
eBuddy provides web and mobile messaging for everyone, everywhere - processing over 17 billion messages a month to more than 30 millions users worldwide. The company's earliest product, eBuddy Chat, is the world's first, independent, browser-based instant messaging service. This multi-chat network supports Facebook Chat, MSN, Google Talk, Yahoo Messenger, MySpace, ICQ and AOL in one aggregated interface via the Web, mobile platforms including iOS, Android, J2ME and mobile Web-enabled devices.
XMS (http://www.xms.me) is a free, real-time messaging app for smartphones that eliminates all SMS fees for unlimited messaging. XMS is currently available for iOS, Android, BlackBerry, Nokia and Windows Phone devices.
Founded in 2003 and based in Amsterdam, San Francisco and Singapore, eBuddy is a privately held company backed by Prime Ventures and Lowland Capital Partners. Like us on Facebook, follow us on Twitter or learn more at http://www.ebuddy.com.
==== ENDS ====