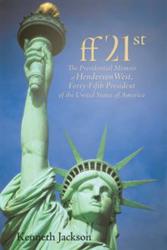 America needs solutions to our existing divide. Current institutions require thinking relevant for 21st century issues.
Nova Scotia (PRWEB) January 23, 2013
Henderson Francis West, took the oath of office Sunday to became the forty-fifth president of the United States of America.
Mr. West, who ran as an independent, won November's election in a landslide victory, benefitted greatly from the dissatisfaction and alienation of the American electorate with the party system. Therefore, Mr. West has the distinction of being the nation's first independent president since George Washington.
President Henderson West is of course a fictional president and is the product of the imagination of author Kenneth Jackson in his new book "ff21st: The Presidential Memoir of Henderson West, Forty-Fifth President of the United States of America."
In the innovative book "ff21st," president West is authoring his memoir in the year 2043 and is reflecting back on the significant accomplishments he achieved during his time as president (2013-2021). Under his tenure, West institutes many institutional changes to government. The key concept of "engaged democracy" becomes the guiding principle for good government and American freedom. The over-riding tenet of the "engaged democratic" process, is that Congress becomes a management group rather than a legislative body. The legislative function of government rightly becomes the domain of American citizens.
As a result of this significant institutional re-imagining, and combined with over-hauls of the legal system, a new focus for corporations, military usage, taxation reform, the purchase of Eastern Canada and many other aspects of American life, cultural changes result and America becomes a much different nation.
Kenneth Jackson the author of "ff21st" states, "the polarization of America cannot continue in the twenty-first century. Throughout American history, there has always been commonalities that unite the citizens, but those are mostly gone. Through president West's thinking and efforts, he is able to unify the nation across numerous institutional paradigms so that citizens become empowered and are able to contribute to the overall prosperity of America."
Though the book is a complete work of "future fiction", included are many examples which outline a modern democratic process, as well as define the role of citizens. Jackson continues, "the democratic system in the USA is clearly broken and has become obsolete. A modern version of democracy is required to meet the complexities and dynamics of a truly global environment". In "ff21st", Henderson West, tackles our current domestic and international circumstances and offers plausible solutions to the most complex issues of our time."
Kenneth Jackson possesses a political science degree and a MBA in international business from SMU. An avid hockey goaltender, guitar player, social observer and reader, Jackson uses his capacities to observe culture and develop practical and realistic solutions.
"ff21st" is available on amazon, Barnes & Noble and by order from your favorite book seller.