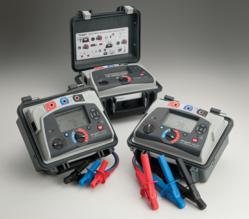 Norristown, Pa. (PRWEB) January 22, 2013
Megger, one of the world's leading manufacturers and suppliers of test equipment and measuring instruments for electrical power applications, now offers three versatile insulation resistance testers (IRTs) rated at 5 kV and 10 kV.
Ideal for use by electrical contractors, wind farm and solar generation operators as well as power generation, testing service and industrial manufacturing companies, the 5 kV MIT515 and MIT525 and 10 kV MIT1025 are compact, lightweight and have rapid charge capabilities.
Designed to ensure the highest precision possible, both 5 kV units offer 5% accuracy up to 1 TΩ, while the 10 kV unit offers 5% accuracy up to 2 TΩ. The MIT515, MIT525 and MIT1025 are rated for use at an altitude of 3,000 meters and still maintain a CAT IV 600 V safety rating, allowing for dependable use in the widest range of applications.
Uniquely engineered to charge while operating, the MIT515, MIT525 and MIT1025 continue to take measurements when connected to line power with a fully discharged battery. This intelligent feature ensures an optimum charge, resulting in minimal charge times. All units feature a lithium-ion battery and can test continuously for up to six hours on a single battery charge.
The compact, rugged design of the new IRTs allow for easy and effortless transport. They are double insulated and built into a unique dual case designed to be fire-retardant. The IP65-rated case also prevents penetration of water and dust.
With a high noise immunity specified at 3 mA, the MIT515, MIT525 and MIT1025 can easily take accurate measurements in environments with excess electrical noise, including industrial locations or high voltage substations. The units also deliver short circuit current with Megger's new max power regulation technology, ensuring maximum power transfer at 3 mA, no matter the load, until the test voltage is reached.
Other key features of the IRTs include date- and time-stamped stored tests that allow the operator to identify results and know exactly when the tests were performed, and a dedicated voltmeter function (30 V to 600 V) with frequency measurement that allows the user to check for induced voltages. An easy-to-use rotary switch dial takes the guesswork out of selecting the test voltage, test mode, memory and other functions.
All of the MIT models include an additional user-defined test voltage that can be set by the operator and a voltage lock to guard against excessive test voltages being applied to sensitive equipment.
The MIT515, MIT525 and MIT1025 feature preconfigured diagnostic tests that include Polarization Index as well as a Step Voltage test, Dielectric Discharge test and Ramp test.
For more information contact Peg Houck at peg(dot)houck(at)megger(dot)com or 610-676-8536.
For high res download and full text:
http://www.simongroup.com/PressRoom/press-release.php?Job=MEG-A-28006
###
Reader Service Inquiries: Peg Houck; Megger; 2621 Van Buren Avenue, Norristown, Pa. 19403; peg(dot)houck(at)megger(dot)com; 610-676-8536.
ABOUT MEGGER:
Megger is one of the world's leading manufacturers and suppliers of test and measurement equipment used within the electric power, building wiring and telecommunication industries. With research, engineering and manufacturing facilities in the USA, UK, Sweden and Germany, combined with sales and technical support in most countries, Megger is uniquely placed to meet the needs of its customers worldwide.