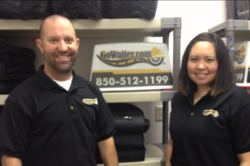 GoWaiter is all about courtesy, comfort, and convenience,"
Pensacola, Florida (PRWEB) January 23, 2013
GoWaiter is celebrating the opening of their new location in Pensacola, Florida this month. Owners, Ron and Patty Spradling have been married for 12 years and have been residents of Pensacola since 2002. Ron has recently retired from the United States Air Force as a Master Sergeant (E-7) and Patty has spent the last couple of years as the General Manager of GoWaiter of Valdosta, Georgia. They have decided to remain in Pensacola upon retirement and embark on this new journey together
GoWaiter is the creation of its president Mike Handy who has spent more than a decade perfecting the restaurant delivery business model. Over the past 2 years, Handy has helped to launch more than 23 GoWaiter franchise locations in Florida, Georgia, Louisiana, Colorado, Connecticut, Tennessee, Texas, and Maryland. Other locations in Orlando area include GoWaiter North Orlando and Go Waiter Apopka.
"GoWaiter is all about courtesy, comfort, and convenience," says Handy. "Each franchisee is a member of their local community, an important component of the business model because it requires strong relationships and a keen understanding of the marketplace. City leaders have embraced our service because it puts money directly back into the local economy, brings jobs and help to build revenue for businesses. Everyone wants to see success in their community."
"In addition to home delivery, we also provide business meeting, lunch, and dinner services," adds Mr. Spradling. "We have really received a warm welcome from our community which is not surprising. The people here are great!"
To place an order or view menu options with Gowaiter of Pensacola, just log on to Gowaiter.com. The company is committed to providing its customers with access to delicious area restaurant dishes, delivered conveniently to homes, offices, hotels or schools. With a focus on building local communities, GoWaiter.com is part of a family of owners with locations across the United States.
Current List of participating Pensacola Restaurants:
Horizen Sushi
Taste of India
Jalapeno Grill & Smokehouse
Wing Stop
Lenny's Sub Shop
Pho Golden Palace Vietnamese
The Rib Shack
Havana Cuban Café
Georgio's Authentic Greek
Bagelheads
Jordan Valley Mediterranean
Legend's Bar & Grill at Perdido Bay Golf Club
For GoWaiter franchise information; just click Restaurant Delivery Franchises Availability!