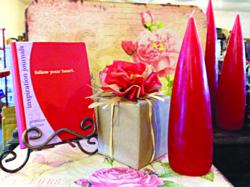 "We always look forward to celebrating the Month of Love at Ojo Caliente."
-- Wendi Gelfound, director of marketing
Ojo Caliente, New Mexico (PRWEB) January 22, 2013
Couples need not wait until February 14 to celebrate romance and relaxation at Ojo Caliente Mineral Springs Resort & Spa. Cupid comes to Ojo all month long with a terrific package of two Essence of Ojo Custom Massages, two yoga classes, an intimate private outdoor pool with kiva fireplace, a bottle of wine or sparkling cider, with a gift of Ojo Signature glasses, and housemade chocolate truffles, all enjoyed during an overnight stay. The "Month of Love" package includes a wide range of lodging choices from Ojo's enchanting suites and charming cottages. The package starts at $309 per couple.
Opened in 1868, Ojo has been a healing destination for nearly 145 years. What better way to appreciate your partner than with some relaxation and rejuvenation at this secluded oasis? Here, couples can escape and renew with the ones they love.
"We always look forward to celebrating the Month of Love at Ojo Caliente," said Wendi Gelfound, director of marketing. "It's a special time for both our local and vacationing guests." Visitor who are lodging in the suites also have access to the private Kiva Pool, which offers extended soaking hours from 6am – midnight. Guests can indulge with additional Ojo signature spa treatments including the detoxifying Sacred Journey Aroma Wrap, Native American Blue Corn and Prickly Pear Salt Scrub or the rejuvenating Ancient Echoes treatment based on East Indian Head Massage.
The Artesian Restaurant is offering a special Valentine's Dinner menu that includes Red Chile-Chocolate Mole, Alaskan Halibut with Achiote-Lime Butter, Agave Nectar Glazed Half Chicken, and Beef Tenderloin Filet with Grilled Shrimp.
No Valentine's celebration would be complete without indulging in one of Ojo's divine desserts, such as the Caramel Flan, the featured dessert, plus the Chocolate Cigar, Coconut Mango Trés Leches, Pumpkin Tamale, and our famous homemade Chocolate Truffles! For the full menu, click here.
Ojo's El Mercado Gift Shop showcases great gifts for your Valentine, ranging from our "Follow Your Heart" mugs ($12) to Ojo Microfiber Robes ($75), plus innerSpirit Heart-shaped rattles ($26), Fire Red Cone Candles ($24.50), Inspirational Journals ($16), and a Book of Native American Love Stories ($14.95). Ojo Gift Cards are available in any denomination can be purchased online.
###
Ojo Caliente's Recent Accolades
Awards for Best Eco-Spa, Best for Affordability, Best for LGBT, Best for Mineral Springs – SpaFinder Wellness
One of the Best Desert Getaways – Outside Magazine Online
Top 10 Resort Spas – Away.com
Top 5 Favorite Mineral Springs Spas & Top 5 Most Affordable Spas – Spa Magazine
The secluded sanctuary that is Ojo Caliente Mineral Springs is tucked into a cottonwood dotted river valley just north of Santa Fe and just south of Taos, NM. Opened in 1868, and celebrating their 145th Anniversary, Ojo is one of the oldest natural health resorts in the United States, and the only hot springs in the world with four unique, sulfur-free healing mineral waters: iron, arsenic, soda and lithia. Deemed sacred by the Native Pueblo tribes of Northern New Mexico, Ojo has been a gathering place for diverse groups for thousands of years.
Ojo is both historic and fresh with eclectic charm in a relaxed and tranquil environment. It boasts a rejuvenating full-service spa, utilizing a range of Native American- and East Indian-inspired therapies, which incorporate wild crafted and indigenous herbs, flowers and essential oils. The resort consists of 48 beautifully appointed New Mexico style lodging units, including enchanting suites, charming cottages, an Historic Hotel and private homes. The Artesian Restaurant serves up fresh, inventive, locally-influenced foods, as well as international dishes. Lighter fare, plus an extensive selection of local and imported wine and beer are available in the Wine Bar.
For more information, contact:
Jennifer Padilla
JLH Media
505 577 1347
jpadilla (at) jlhmedia (dot) com