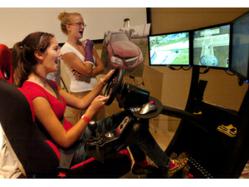 "Programs such as the Distracted Driving Simulator will do more to prevent highway deaths then any new law
Louisville, Kentucky (PRWEB) January 24, 2013
In December, the National Highway Traffic Safety Administration released preliminary data showing that road deaths rose nationwide 7.1% in 2012 from 2011 which was the largest year-to-year jump since 1975. However,in Kentucky, deaths were actually down 2%.
According to the Advocates for Highway and Auto Safety, a decade of declining road deaths created complacency among state lawmakers while there was a decline for most of the last decade. They stated in early January there are currently 18 states without any primary seat-belt laws and none of these enacted a single law last year which caused a little bit of an uproar.
"State legislators around the country enacted 22 new traffic safety laws in 2010, while they just passed 10 last year," Schafer said. "If fatal accidents keep increasing, new laws may need to be implemented."
While Kentucky does have primary seat-belt laws, it didn't have any new laws in 2012. However Kentucky did implement a new education program. The Kentucky Office of Highway Safety offered its D2 (Distracted Driving) Simulator as it's newest educational tool to address issues and dangers of distracted driving.
"As Kentucky personal injury attorney, I think Kentucky is on the right track. Education is the key to decreasing highway fatalities," added Schafer. "Programs such as the Distracted Driving Simulator will do more to prevent highway deaths then any new law. The key now is to get this program in front of as many people as possible."