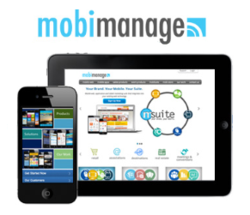 Scottsdale, AZ (PRWEB) January 23, 2013
mobiManage, a Scottsdale, AZ based mobile development and marketing company, has joined Sitecore's global Certified Partner program. This partnership will enable mobiManage to further expand its solution offering to clients in the enterprise space and for clients requiring highly sophisticated mobile engagement, marketing and application development capabilities which can easily be integrated into their website content management system.
Sitecore is a global leader in Web content management (WCM) and online engagement for Fortune 1000 and FT 1000 companies, large governments, public and non-profit associations and organizations, and educational institutions. Sitecore's software consists of platforms for WCM and customer engagement, which includes website solutions and integrated automation of marketing tasks and e-commerce based on Microsoft .NET technologies.
As a Certified Solutions Partner, mobiManage has access to a wealth of global technical resources and support from Sitecore to deliver the best environments built on the Sitecore CMS in industries such as manufacturing, media and entertainment, insurance, technology and tourism.
To ensure a comprehensive integrated mobile solution for websites built on Sitecore, mobiManage has developed an easy data integration point called the mobiSuite. - designed to ensure Sitecore customer can easily integrate mobile applications, tablet products and marketing modules such as GEO targeting, Mobile Loyalty, Kiosks, Mobile Ticketing and Mobile Commerce.
In commenting about the partnership, Douglas Ralston, President of mobiManage states, "Our clients become increasingly aware that their mobile presence is a vital part of their strategic marketing and business plan. Sitecore integration will enable us to provide them with a highly advanced mobile solution that proactively manages and supports the quick changing mobile marketplace."
About mobiManage: (http://www.mobiManage.com) is a Scottsdale, Arizona based mobile development and marketing company focused on providing our customers engaging market forced mobile websites, mobile applications and tablet products. With over 400 customers utilizing mobiManage's mobile marketing .Net mobiPlatforn, we provide easy integration components for Sitecore and Microsoft based .Net solutions. mobiManage is a certified partner of Sitecore, Apple, Android, Samsung, Appcelerator and many other solutions. http://www.mobimanage.com
About Sitecore: Sitecore redefines how organizations engage with their customers online, powering experiences that can sense and adapt to a customer's needs to increase revenue and customer lifetime value and satisfaction. Sitecore was the first Web Content Management system (WCM) to incorporate marketing automation, intranet portal, e-commerce, social media and campaign management technologies into a cohesive, integrated open platform. Sitecore's software makes it easy for businesses to identify, serve, and engage customers online. http://www.sitecore.net