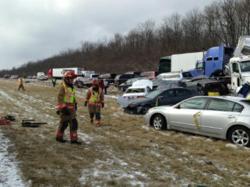 Toledo, Ohio (PRWEB) January 22, 2013
Highways were closed for hours on Monday, January 21st due to whiteout conditions and icy roadways that led to three multi-vehicle pileups on Ohio Interstates. News Channel 5 WPTA resported a total of three different accidents occurred, resulting in massive back-ups on Interstates I-75, I-275, and I-270.
The accident occurring on I-75 involved fifty-two vehicles that crashed into one another during whiteout conditions. Luckily, no one involved suffered life-threatening conditions, although nine people were sent to the local hospital.
A pileup including 86 vehicles happened late Monday morning on I-275. Twenty people were injured in this multi-vehicle accident, and one young girl was killed outside of her car.
The third accident happened in the early-afternoon on I-270. This 20-vehicle accident, once again caused by low visibility and icy conditions, sent three people to the hospital.
At this time, state officials say no one has been cited for traffic violations for the I-75 accident, and it is unknown whether the other two accidents have had any traffic citations result.
Attorney Chuck Boyk of The Charles E. Boyk Law Offices explained that accidents of this nature can be very tricky. "Multiple-vehicle accidents are overwhelming to begin with, let alone massive accidents such as these three."
Another issue that must be addressed is who the at-fault driver is. Usually in weather-related accidents there is a driver cited with a Failure to Control ticket. This simply means that, although driving conditions were not optimal, the driver failed to reduce speed and drive with the proper precaution. But, the issue with these massive Interstate accidents is that there were such a high number of vehicles involved.
Winter Weather Accidents
Nearly 70 percent of ice and snow-related injuries result from vehicle accidents. One of the most important things is to be prepared for these weather conditions. When there is a threat of a winter storm, do not use the roadways unless it is absolutely necessary.
If you find yourself behind the wheel during a winter storm, the most important thing is to drive defensively. Take into account the weather conditions, and adjust your driving to ensure the safety of yourself and others on the roadway.
If you have been involved in a multiple-vehicle accident, call the Charles E. Boyk Law Offices attorneys at 800.637.8170 for a free case evaluation.