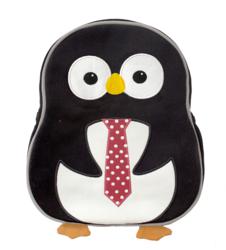 "Made from 100% recycled fabrics, your kids will love these fun packs while you'll feel good about helping the environment," said Susannah Searson, Apple Park's vice president of marketing and sales.
San Francisco, CA (PRWEB) January 23, 2013
The Picnic Pals are ready for school! Apple Park's new collection of eco-friendly backpacks and lunch packs feature the popular characters, along with a few new ones that kids are sure to love. The functional packs are durably designed for every day use and made from eco-friendly, recycled materials. Each has embroidered details and vibrant accent colors. These packs stand out and are "green".
The backpack collection comes in seven unique embroidered designs: Purple Owl, White Owl, Penguin, Monkey, Bat, Cubby and Bunny. A larger pack in three designs (include variations) is sized to accommodate schoolbooks and a three-ring binder. The lunch pack collection comes in all seven designs and is made from the same heavy-duty, recycled material along with an insulated, waterproof interior lining. Both the backpacks and the lunch packs have a nametag and an apple zipper pull.
Apple Park's BackAgain™ fabric saves plastic bottles from becoming landfill waste and reconstitutes them through an eco-friendly process. The PET bottles are ground into flakes and washed to remove any plastic coating or contaminants. Then the flakes are spun into fiber that is woven into 100% recycled nylon that is BPA free, PVC free, Phthalate-free and non-toxic.
Apple Park's new backpacks and lunch packs will be featured at the upcoming trade shows:

Atlanta Gift Show, Atlanta, GA (January 11th – 15th)
ENK Children's Club, New York, NY (January 13th – 15th)
New York International Gift Show, New York, NY (January 26th – 30th)
International Toy Fair, Nuremberg, Germany (January 30th – February 4th)
About Apple Park
Apple Park designs and manufactures eco-friendly and luxurious products for babies and children using only the finest organic, sustainable and recycled materials. http://www.applepark.com