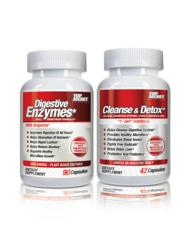 Prebiotics are a key element in the fight against intestinal bloating, constipation and diarrhea
Miramar, Florida (PRWEB) January 24, 2013
Prebiotics hit the "red carpet" of nutritional supplementation during one of Dr. Oz' latest TV shows. The main topic of the show was "Complete Body Restart." During the show Dr. Oz identified stress related "intestinal blackout" as the leading cause for bloating, constipation and diarrhea, and prebiotics as the key component to address this "blackout" and end the suffering.
Top Secret Nutrition has understood the importance of prebiotics and probiotics for over two years and include them in two of the company's best-selling products, Digestive Enzymes and Cleanse and Detox. The initial intent of including prebiotics and probiotics was to improve the digestion of active individuals and competitive athletes in order to increase the absorption of nutrients and thus affect performance and the over-all sense of well-being. These two products gained rapid acceptance within the original target groups as well as from many others seeking to improve their digestion. At this moment, Top Secret Nutrition is in the final stages of production of a multi-vitamin for men and a weight-loss nutrition meal replacement, which will also both contain prebiotics and probiotics.
"Until very recently consumers were not very well educated on the effect and benefits of prebiotics. This lack of awareness is reflected by the relatively small number of supplements in the market that contain prebiotics. We always understood the importance of prebiotics to the health of the digestive system and welcomed others to join our efforts to educate the consumer. The positive impact of prebiotics is felt by all who take them through supplementation" stated Tom Richardson, CEO of Top Secret Nutrition.
What are prebiotics and why are they so important? In simple terms, prebiotics are the "food" consumed by probiotics, and probiotics are a key element of a healthy digestive system. Probiotics help your gut by giving it the right bacteria, but this bacteria stays alive only if they are given the food that is provided by prebiotics. In this way prebiotics are the "kings" of indirect benefit to the body.
"As Dr. Oz so clearly stated in his TV show, if you want to improve your digestion and end the feeling of bloating, constipation or diarrhea, start by making sure that you are consuming the right amounts of prebiotics" concluded Tom Richardson.
For additional information regarding the Digestive Enzyme and the Cleanse and Detox supplements visit http://www.topsecretnutrition.com. During your visit please take the time to explore the rest of our product line.
About Top Secret Nutrition:
Top Secret Nutrition is a developer and marketer of high-quality nutritional supplements with the purpose of "Fueling Active Life Styles 24/7" and is considered a leader in sports nutrition, general heath and weight management supplementation. The company currently has over 45 products spanning across the three supplementation segments. These products are widely available in the United States at some of the most relevant retailers such as Bodybuilding.com, GNC, Vitamin Shoppe, and Vitamin World. The products are also distributed to a wide network of retailers by Europa Sports, Select Nutrition Distributors, and the Chiropractor's Buying Group. Top Secret Nutrition's products are increasingly available in international markets.
Top Secret Nutrition is based in Miramar, Florida. All of its products are manufactured in the United States using Good Manufacturer Practices (GMP) certified labs. For more information or to schedule an interview, please contact Tom Richardson at (954) 496-9600 or tom(at)topsecretnutrition(dot)com.