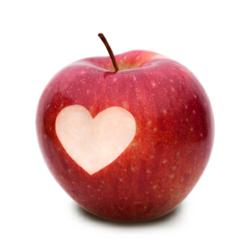 "I was so impressed with the findings that I've started eating an apple a day myself and am convinced that is what I need to do to keep oxidized LDL in check.
Vienna, Virginia (PRWEB) January 23, 2013
With heart disease still the number one cause of death in the United States, February's American Heart Month is an essential time to reevaluate the foods that help keep the ticker in tip-top shape. Based on research showing their ability to slash oxidized LDL, the "bad" cholesterol, apples are likely among cardiologists' top food choices.
A recent study by The Ohio State University found that eating an apple a day for four weeks reduced the amount of oxidized LDL (low-density lipoprotein) cholesterol by 40 percent – a response so significant that Dr. Robert DiSilvestro, lead researcher on the study, says he altered his own diet. "I was so impressed with the findings that I've started eating an apple a day myself and am convinced that is what I need to do to keep oxidized LDL in check."
The professor of human nutrition explains that LDL cholesterol becomes even more dangerous when it is oxidized: "I often refer to oxidized LDL as a 'trouble-maker' as it produces inflammation in the arteries. This situation can promote atherosclerosis and increase the risk of heart attack or stroke. What we now know is that the antioxidants in apples are extremely effective in keeping trouble from happening."
In fact, daily apple consumption was significantly more effective at lowering oxidized LDL than other antioxidants DiSilvestro has studied, including green tea and tomato extract.
The U.S. Apple Association (USApple) says it's easy to incorporate heart-healthy apples into the daily diet. "Apples are widely available year-round and all across the country," says Nancy Foster, USApple's president and CEO. "Plus, with so many varieties to choose from, antioxidant-rich apples are a delicious and versatile ingredient to nourish your body and help keep oxidized LDL in check."
In celebration of American Heart Health month, USApple offers the following recipe, teeming with good-for-the-heart foods, including apples, kale and quinoa.
Quinoa Salad with Apples, Kale, Pine Nuts and Feta
Is it possible to pack more nutritional powerhouses into a single salad? Apple, kale and quinoa are packed with nutrition, but this salad is most notable for its delicious mix of flavors and textures: sweetness from the apples, salty flavor from the feta, and crunch from the quinoa and pine nuts.
Makes: 6 to 8 servings
For the dressing:
Juice of 1 large lemon
2 teaspoons honey
1 medium shallot
1/2 teaspoon kosher salt
3 tablespoons olive oil
For the salad:
3 cups very thinly sliced kale (about 1/3 of a standard bunch)
1 1/2 cups quinoa
3 cups water
1 teaspoon plus 1/4 teaspoon kosher salt
2 tablespoons olive oil
2 large tender-sweet apples, such as Fuji or Gala, unpeeled and cut into 1/2-inch cubes
2 teaspoons sugar
1/3 cup toasted pine nuts
4 ounces crumbled feta
In a small bowl, whisk together the lemon, honey, shallot, and salt. Add the olive oil in a thin stream, whisking as you go. Set aside.
Put the kale in a serving bowl and set aside. Put the quinoa, water, and 1 teaspoon salt in a medium saucepan, cover, and set over high heat. Bring to a boil, then reduce heat to low and cook until all the water is absorbed, about 15 minutes. Remove from heat and let sit 5 minutes, then fluff with a fork and add it to the bowl with the kale.
Set a large skillet over medium-high heat. Add oil, heat for a minute, then add apples and 1/4 teaspoon salt. Cook, stirring, for 2 minutes, then add sugar and continue cooking and stirring until the apples begin to turn golden, 5 to 7 minutes. Add apples to the bowl with the quinoa, then add the pine nuts, feta, and dressing and toss until evenly combined.
# # #
About U.S. Apple Association
The U.S. Apple Association (USApple) is the national trade association representing all segments of the apple industry. Members include 40 state and regional apple associations representing the 7,500 apple growers throughout the country, as well as more than 400 individual firms involved in the apple business. USApple's mission is to provide the means for all segments of the U.S. apple industry to join in appropriate collective efforts to profitably produce and market apples and apple products.