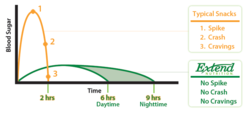 My patients drastically improved their blood sugar control and experienced decreased hunger – aiding in weight loss. Extend Nutrition is truly the best line of snacks on the market.
Saint Louis, MO (PRWEB) January 24, 2013
Trying a new weight loss plan can feel overwhelming. There is a plethora of contradictory health and nutrition information available – making it nearly impossible to make healthy decisions.
Extend Nutrition takes the complexity out of weight loss with the new Slim Down Snack Pack. It's a program that is easy to follow – simply eat more snacks.
Slim down the easy way:
1. Eat 2 snacks per day from the Slim Down Snack Pack.
2. Be less hungry.
3. Lose weight.
The Slim Down Snack Pack will be available to consumers for the very first time on January 31st, at the 2013 Market America World Conference in Miami, FL – an event drawing nearly 15,000 healthy-minded people. The Snack Pack comes with a wide variety of Extend Bars, Shakes, and crunchy snacks. Each serving contains the patented blend of protein, fiber, healthy fat and complex carbohydrate that helps control blood sugar for up to 9 hours, resulting in hunger control and healthy weight loss.
According to the Centers for Disease Control and Prevention, 68% of American adults qualify as overweight. And in her ground-breaking book "Diabesity" (Bantam Books 2005), Dr. Francine Kaufman (inventor of Extend Nutrition) discusses the global epidemic of diabetes and obesity. The spread of the "Western diet", which consists of simple carbohydrate foods and also lacks lean protein, helped fuel an increase in both obesity rates and diabetes.
To help combat this epidemic, Dr. Kaufman took to her very own kitchen and created the Extend Nutrition formula. The doctor-developed snacks are low-glycemic, meaning that the complex carbohydrates do not cause blood sugar levels to rise rapidly.
What's the connection between weight loss and foods that help stabilize blood sugar?

Reduce Insulin-Induced Fat Storage: High-glycemic foods spike blood sugar (glucose). The body responds by over-producing insulin, storing excess glucose as fat. Extend Nutrition is low-glycemic. There is no blood sugar spike, no insulin spike…reducing the fat storage response.
Control Hunger: Going too long between meals causes blood sugar to drop to low levels. Low blood sugar can produce ravenous hunger that can quickly lead to unhealthy food choices. Extend Nutrition helps prevent blood sugar lows – the carbohydrates release slowly throughout the digestion process, fending off cravings, leading to healthier choices.
Reduce Calorie Intake At Your Next Meal: The slow-release carbohydrate formula in Extend Nutrition is clinically proven to reduce the calories consumed at the next meal by an average of 21%. The products are sold in pre-packaged portions to help satisfy hunger while providing moderation in caloric intake. The snacks complement most diet plans, making it easy to slim down without sacrifice or compromise.
Slim Down Snack Pack Includes 25 Servings (SRP $39.99):

5 Extend Delight Bars: Chocolate, Peanut, Apple Cinnamon, Mixed Berry, and Peanut Butter Chocolate
5 Extend Crisps: White Cheddar, Zesty Ranch, Cinnamon, Honey BBQ, and Italian Herb
10 Extend Drizzles: 5 Chocolate Dream and 5 Caramel Bliss
5 Extend Shakes: Chocolate, Vanilla and Strawberry
Slim Down Snack Pack can be purchased at http://www.Shop.com(Keyword: Extend Nutrition)
Slim Down Snack Pack is based on advanced Nutritional Science:
The unique formula has been awarded 17 patents worldwide, including:
US Patent No. 6,534,487 "Methods for Suppressing Appetite and Enhancing Exercise and Recovery"
The product has been confirmed in several double-blind placebo clinical trials, including "A Study to Assess the Efficacy of Extend Bar as an Appetite Suppressant in Males and Females" (Sussman, Sept. 2000).
The results of this clinical study were truly astounding. The conclusion of Dr. Glen Sussman was that "the bar (Extend Bar) is effective in reducing calorie intake, both by raw percentages and by statistical significance".
"This finding would be of immense benefit to a multitude of patients, many of whom are attempting to lose weight by unsafe methods or means that risk complications. Extend Bar, by providing consumers with a product that is completely natural and devoid of known side-effects, fills a large need in the weight-control market."
-------------------------------------------------------------------------------------------------------------------------------
Real-World Results:
"Extend bars are great! I'm a type 2 diabetic and have been fighting the sugar battle since 2005. I have lost weight (from 235 to 189 lbs), my morning blood sugar is lower and stays all day! Thanks Extend Nutrition!" Stephen Brown (Magnolia, TX)
"Extend Nutrition Snacks helped me control my appetite all day, so I could eat the way I knew I should. As a result, I lost 47 pounds in just one year!" Terry West (Gahanna, OH)
Commentary from Christopher Mosunic – PhD, RD, CDE (Director of the Weight Loss and Diabetes Center at Greenwich Hospital, CT):
"My patients drastically improved their blood sugar control and experienced decreased hunger – aiding in weight loss. Extend Nutrition is truly the best line of snacks on the market."
+ + +
Invented by Dr. Francine Kaufman, world-renowned endocrinologist and former President of the American Diabetes Association, the patented line of Extend Nutrition Bars, Shakes, Crisps and Drizzles are delicious nutritional solutions clinically-proven to help control blood sugar for up to 9 hours. Blood sugar control is the key to both diabetes and weight management. Extend Nutrition snacks have been enthusiastically recommended by thousands of certified diabetes educators and registered dietitians around the world for over 10 years. Extend Nutrition products are now available at more than 25,000 retailers nationwide, including your local Wal-Mart, Walgreens, CVS, Target, Kmart and other leading retailers where diabetes nutrition products are sold. Extend Nutrition strives to provide families with simple nutritional solutions that deliver peace of mind and confidence resulting in a healthier and happier lifestyle.