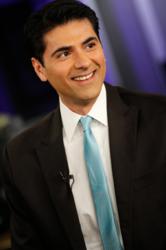 Lung cancer is the leading cause of cancer related deaths worldwide.
Beverly Hills, CA (PRWEB) January 23, 2013
Appearing every Monday on the morning news program Good Day LA, Sonu Ahluwalia, MD, informs viewers about a range of topics spanning various aspects of health and wellness. This week, Dr. Ahluwalia spoke about the new FDA-approved transdermal patch to treat migraines.
"It's important to know that almost ten percent of the population worldwide has some migraine affected issues, and half of those people have nausea," said Dr. Ahluwalia, a board-certified orthopedic surgeon at La Peer Health Systems in Beverly Hills.
According to Dr. Ahluwalia, many migraine patients have difficulty keeping oral medications down due to migraine-related nausea. By administering the medication through the skin, the new patch enables people with migraines to find much needed relief without having to swallow a pill.
The orthopedic surgeon also spoke about the new American Cancer Society recommendation that long-term smokers undergo regular CT scans to check for lung cancer.
"Lung cancer is the leading cause of cancer related deaths worldwide," said Dr. Ahluwalia. He went on to suggest that people who have smoked for many years could benefit from annual spiral CTs. Utilizing a lower dose of radiation than traditional CT scans, spiral CTs could offer earlier, safer lung cancer detection than other tests. However, as is the case with any testing, people may receive false positive results. Dr. Ahluwalia advised that patients who are long-term smokers speak to their doctors about whether or not they would benefit from a yearly spiral CT.
Finally, Dr. Ahluwalia's segment also touched upon the new prescription guidelines for the insomnia drug Ambien. According to the surgeon, the current Ambien dosages may be too high for some patients who continue to experience sedative effects the morning after taking the drug. Studies suggest that some people are working or driving while under the effects of Ambien. Dr. Ahluwalia went on to say that women in particular could benefit from a reduced dose of Ambien.
Watch Dr. Ahluwalia's entire news segment on My Fox LA.
For more health tips from Dr. Ahluwalia, as well as videos of his FoxLA segments, visit his Facebook page.
Sonu Ahluwalia, MD, is an internationally-acclaimed board-certified orthopedic surgeon at La Peer Health Systems, as well as the Clinical Chief of Orthopaedic Surgery at Cedars Sinai Medical Center in Beverly Hills. His private practice specializes in sports medicine, shoulder, knee and hip surgery.
Dr. Ahluwalia completed his orthopedic training at the Harvard Combined Orthopaedic Surgery Residency Program in Boston, one of the most sought after training programs in orthopaedic surgery. He has completed three fellowships, two at Harvard Medical School and one at Lenox Hill Hospital in New York City, on shoulder surgery, sports medicine, and joint replacement and joint preservation surgery. For more information please call310.659.2910 or visit http://www.Ahluwalia.org.