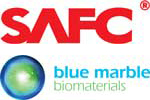 Missoula, Montana, USA (PRWEB) January 23, 2013
Blue Marble Biomaterials, a specialty biochemical manufacturer founded in Seattle, Washington and based in Missoula, Montana, has secured an exclusive distribution contract with Sigma-Aldrich® Corporation's custom manufacturing and services business unit, SAFC®. As a global manufacturer and distributor of specialty chemicals used in a wide variety of industries including food and beverage flavors, personal care ingredients, scientific research, biotechnology and pharmaceuticals, the agreement gives SAFC's customers ready access to Blue Marble's offer of natural and sustainable biochemical alternatives. These products will be sold under the SAFC portfolio and are expected to be available for purchase in April of 2013.
"We are excited to announce this agreement with SAFC. Over the past several months, we worked closely together to develop a comprehensive strategy to offer our all-natural, drop-in replacement biochemicals to its customers. In 2010, twenty percent of all chemicals sold globally were sustainable. By 2025, the United States Department of Agriculture predicts that 45 to 50% of all chemicals sold will be sustainable. This relationship helps to illustrate the trend that is occurring with natural biochemicals and through this agreement with Blue Marble, SAFC has the potential to be the market frontrunner in offering natural biochemicals to its customers," said Colby Underwood, Co-CEO and Chief Business Officer for Blue Marble Biomaterials.
About Blue Marble Biomaterials: Blue Marble Biomaterials is a wholly owned subsidiary of Blue Marble Energy. Blue Marble Biomaterials manufactures renewable specialty chemicals for the food, fragrance, cosmetics, and personal care industries in a zero-waste, carbon neutral production facility in Missoula, Montana. Their mission is to replace petroleum-based chemicals with fully sustainable, zero carbon specialty chemicals. For more information on Blue Marble go to: http://www.bluemarblebio.com.
About Sigma-Aldrich: Sigma-Aldrich is a leading Life Science and High Technology company whose biochemical, organic chemical products, kits and services are used in scientific research, including genomic and proteomic research, biotechnology, pharmaceutical development, the diagnosis of disease and as key components in pharmaceutical, diagnostics and high technology manufacturing. Sigma-Aldrich customers include more than 1.3 million scientists and technologists in life science companies, university and government institutions, hospitals and industry. The Company operates in 38 countries and has nearly 9,000 employees whose objective is to provide excellent service worldwide. Sigma-Aldrich is committed to accelerating customer success through innovation and leadership in Life Science and High Technology. For more information about Sigma-Aldrich, please visit its website at http://www.sigma-aldrich.com.
About SAFC: SAFC, the custom manufacturing and services business unit of Sigma-Aldrich Corporation, is recognized as a top 10 global specialty chemicals and biologics supplier. As a trusted manufacturer for the life science and high technology industries, SAFC works closely with customers to resolve development challenges and accelerate the product pipeline utilizing its global "Centers of Excellence" and dedicated manufacturing facilities. Its rich portfolio includes high-purity inorganic materials for high technology applications, critical raw materials and extensive biologics safety testing services for biopharmaceutical manufacturing, and complex, high-potent APIs and key intermediates for pharmaceutical manufacturing. For more information, visit http://www.safcglobal.com.
Contact for Blue Marble Biomaterials:
Colby Underwood – Co-CEO/Chief Business Officer
(206) 779-1494 mobile - colby(dot)underwood(at)bluemarblebio(dot)com