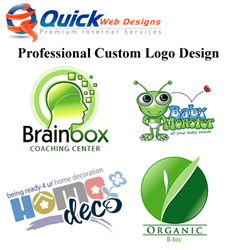 Give us an opportunity to help with your Logo Design Project Today!

- J Quick, President, QWD
Garner, NC (PRWEB) January 24, 2013
With the world of business growing and market competition levels ever increasing, the need for a unique Custom Logo Design is increasing exponentially for businesses. Company's Logos are thus becoming a major tool to elevate brand recognition in the minds of consumers. A logo is not just a mere representation of the business; it is the face of the organization.
While Logo Design originality is a key factor, another factor to consider is the representation. The design should match the name and the intended image of the company. Professionally designed logos are the business need of the hour.
Quick Web Designs has been offering services to businesses for 15 years since 1998. They have helped companies get established through Internet Marketing and Search Engine Optimization.
With the launch of their new Custom Logo Design Service, they added a new feather to their multicolored crown. Quick Web Designs, a North Carolina Logo Design Company, equipped with its team of highly talented and professional logo designers, are providing a top quality service to large and small businesses.
The highly competitive prices have put them in the front line among all logo design service companies. The No Hidden Cost policy has gained a high level of trust among its clients. The volume of new logo design request by clients has allowed them to lower the cost of service. This is also a testimonial of the top quality of service the company is providing.
Quick Wed Designs is offering two really attractive design packages:
Package 1 The Best Seller: This package includes 7 unique logo design concepts by 7 logo designers. Logo Design Revisions are done until 100% client satisfaction is achieved. This package contains 2 total redraws if needed and all this for a fabulous price of only $295.00.
Package 2 The Works: This package includes 10 unique logo design concepts by 10 logo designers. Logo Design Revisions are done until 100% client satisfaction is achieved. The client also gets 50 total redraws if needed and Logo file storage. All this included for a fabulous price of only $455.00.
Their designers never use clip-art and offer a completely unique design every time. The originality and uniqueness of every individual logo is a primary concern and each is designed from scratch. They have a minimum of 7 to 10 Dedicated Logo Designers working on every project to ensured variety. Allow their Designers to compete for your Winning Logo Design.
The client owns the full copyright and can even trademark the completed logo design. The logo design service of Quick Web Designs is providing value and is definitely the best choice.
Quick Web Designs is a North Carolina based company that provides Custom Logo Design, Internet Marketing and Website Design for businesses large and small. Since 1998, Quick Web Designs has consistently helped companies get established through internet marketing. Quick Web Designs is a veteran owned business. For more information, please visit http://www.quickwebdesigns.com