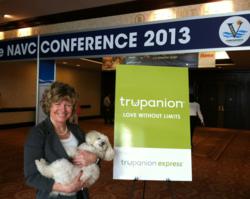 We love it. It is so radically different, and is working out so well so far. The staff were all enthused immediately. -- Dr. Bruce Curley, Acacia Pet Clinic
Orlando, FL (PRWEB) January 22, 2013
Today, Trupanion is pleased and excited to launch Trupanion Express™ – a new no-cost software solution that will revolutionize the customer experience between the veterinarian and their clients.
Clients ponder treatment decisions, decline treatment and in some cases euthanize their pets because they cannot afford necessary care. Pet insurance helps insulate veterinary practices from the factors that are eroding their freedom to provide the best treatment and care choices. Trupanion Express™ is the solution - a new, simple software that eliminates burdens placed on veterinarians and pet owners, strengthening their partnership to deliver great animal care.
"Trupanion is waging war on economic euthanasia. We will do everything we can to help more pets stay with their families for their whole life," says Dr. Kerri Marshall, Chief Veterinary Officer at Trupanion, a leading provider of pet insurance in North America. "Trupanion Express™ changes the conversation between veterinarians and their clients. There will be a marked difference in what veterinarians will be able to offer and what pet owners can decide and do - delighting clients with reduced veterinary bills and making veterinarians the undisputed hero."
Trupanion Express™ is a well-designed, well-executed desktop application that can be installed and viewed on practice computers in 15 minutes, and is compatible with all veterinary practice management systems. This means that Trupanion Express™ will interface with what veterinary practices already have. Data is synchronized and eliminates the need for re-entering practice-based data. Trupanion can process claims fast because of their simple product with no benefits schedule to wade through. Trupanion Express™ uses technology for what it is meant for – to make life, and business, simpler.
"The reimbursement model is dead. Welcome to a new era of reimbursement annihilation," says Howard Rubin, Chief Operating Officer. "Trupanion Express™ enables Trupanion to pay claims at the time of invoicing and pay veterinarians directly, so clients do not have to come up with hard-earned money up front. And they can easily choose Option A first. Veterinarians will now be able to offer more care."
Trupanion Express™ will make veterinary practice more rewarding. Trupanion Express™ delivers a positive impact on practice operations and will grow veterinary practices by:

Providing the highest level of care for patients;
Increasing revenue and profitability by reducing paperwork and administrative costs;
Increasing client visits and treatment adherence;
Reducing costs - veterinarians will no longer be paying credit card charges on 90% of their bills. This savings goes right to the practice bottom line.
All this with no extra effort or expense to the veterinarian. With Trupanion Express™ there are no transaction fees, no administration costs – and NO cost to veterinarians or their clients.
Trupanion Express™ – here's how it works:

Veterinarians will have instant snapshots of each client who walks through the door so they are able to greet them by name and know all the history of the pet upon greeting. They will know that they are Trupanion insured and the claims history of each pet. And any pre-existing conditions.
Within four minutes, veterinarians will receive notification from Trupanion detailing the amount covered, and funds are transferred electronically the same day to the veterinarian's bank account.
This tailors and informs their conversation with the client;
Clients only have to pay their co-pay of 10% on insured treatment and their deductible if they have one. Trupanion pays the other 90% directly, in minutes;
Clients no longer have to fill out claim forms.
"Trupanion is investing so practices don't have to," says Darryl Rawlings, Founder and Chief Executive Officer. "Trupanion has earned its place as the veterinarian's trusted partner in pet care. Our principles are to invest and create products and processes that help pet owners receive all the care their pets need and ensure that veterinarians' practices thrive." Trupanion was the first to introduce no payout limits and zero deductibles for pet insurance. And Trupanion covers all hereditary and congenital conditions. "The launch of Trupanion Express™ is the next industry first that continues Trupanion's proud tradition of industry leadership," says Rawlings.
Trupanion Express™ is a solution working in veterinary practices today. Hospitals in the U.S. and Canada have been using this industry-changing new software, calling it a welcome solution to the many challenges they face.
Dr. Bruce Curley with Acacia Pet Clinic in San Jose, California was the first to fully implement Trupanion Express™ in the U.S. "We love it. It is so radically different, and is working out so well so far. The staff were all enthused immediately" says Dr. Curley. He cites a specific client example - "one patient required injections each month averaging a couple of hundred dollars each time. Now and because of Trupanion Express™ – we were ready for them. They only paid $19! Our client's reaction: Whoa – this is great!!!!!"
What does the future hold for Trupanion Express™? Today's announcement and this new solution is just the beginning. Trupanion will continue to work in partnership with veterinarians to develop new features that deliver new benefits, and will continue to demonstrate Trupanion's industry leadership by revolutionizing the customer experience between the veterinarian and their clients.
About Trupanion®
Trupanion is an industry leader in pet insurance, offering cat and dog insurance in the United States, Canada and Puerto Rico with the mission of delivering financial peace of mind to pet owners. Trupanion offers a simple, customizable pet insurance policy with 90% coverage for diagnostic tests, surgeries, medications, hospital stays, and alternative therapies for the treatment of accidents or illnesses. Trupanion's policy includes coverage of hereditary and congenital conditions with no payout limits per incident, per year, or over the lifetime of the pet.
Trupanion® owns and is underwritten by the American Pet Insurance Company, which has earned a Financial Stability Rating of A, Exceptional, from Demotech, Inc. Trupanion is a founding member of the North American Pet Health Insurance Association (NAPHIA), demonstrating a commitment to high standards and transparency in all actions and products. For more information call 800-569-7913 or visit Trupanion.com. You can also follow Trupanion on Twitter or Facebook.