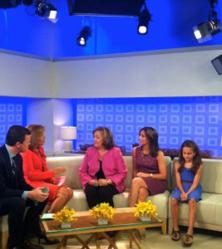 "I love empowering other women and showing them that you can be a mom and work."
Philadelphia, PA (PRWEB) January 23, 2013
2012 was a monumental year for Baby Be Hip, a Philadelphia web-based personalized baby gifts business and it's founder and CEO Colleen Mook, who started and ended the year with distinct recognitions in several national and local media outlets.
Colleen Mook, a mompreneur who started her company of unique baby gifts in 2002, was recognized early in the year with an appearance on the national talk show TODAY show. Alongside her daughter, Mook was featured with the founder of her elite business program Count Me In For Women's Economic Independence, Nell Merlino. Their appearance celebrated the nineteenth anniversary of the empowering Take Our Daughters To Work Day, which Merlino established to help women continue to achieve success.
Local Philadelphia publication The Philadelphia Inquirer picked up on Mook's success with Baby Be Hip's personalized baby gifts early in the year with a profile in their Small Business section. The article features Mook and her daughter Ellie, as Mook discusses overcoming personal challenges and how they have influenced her in achieving success with Baby Be Hip. Mook also shared her business story this year in Bucks County based paper The Intelligencer, which also featured Baby Be Hip and Mook's story in the business section. She views the recent exposure the past year as opportunities to help inspire other mompreneurs and small business owners. "I love empowering other women and showing them that you can be a mom and work," she said. "I've learned I'm capable of a lot more than I expected."
At Tory Johnson's Spark & Hustle conference in New York City in late May, Mook was chosen as the recipient of the prestigious Lifetime Moms and Spark & Hustle award. She was selected out of many other woman small business owners, and received an incredible prize package with lots of goods and services to help Baby Be Hip grow and thrive.
A business specializing in monogrammed baby gifts, Baby Be Hip had quite the year as well, giving the small business a serious boost. With it's baby gift baskets featured in the Moms & Babies section of national publication People Magazine, as well as a successful fashion show full of unique baby gifts like personalized burp cloths, Christmas gifts for babies, and more on FOX's Good Day Philadelphia, Baby Be Hip thrived in 2012.
As the year came to a close, Mook had some exciting news come her way when Baby Be Hip was selected by business resource SCORE as a winner of the Sam's Club & SCORE collaboration for small businesses, the Sam's Club Giving Program. The prestigious program will award Mook and Baby Be Hip with many workshops, tools, and the supplies needed for Baby Be Hip to continue to expand and prosper well into 2013.
###
Baby Be Hip (http://www.BabyBeHip.com) is your go-to source for personalized baby gifts that are fun, functional, and fabulous. Leave a lasting impression on family, friends, clients, and colleagues with a unique baby gift that new parents will always love and use.