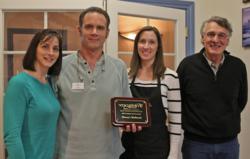 Oakhurst, CA (PRWEB) January 22, 2013
The Yosemite Sierra Visitors Bureau recognized a Madera County business for excellent customer service during their first board meeting of 2013.
The staff of Dorsey's Hallmark in Oakhurst was awarded the Excellent in Customer Service award by the YSVB. Owner Dave Dorsey and two staff members accepted a plaque honoring their distinction from YSVB Board President Max Stauffer.
"The entire staff at Dorsey's Hallmark in Oakhurst have continually demonstrated the highest commitment to both customer service and to the community. Their dedication leaves customers from locals to visitors alike feeling welcome and satisfied, while their philanthropic efforts have been of tremendous benefit for numerous not for profits in the region," said Stauffer during the meeting.
Dorsey said during the meeting that he was pleased to accept the award, and reaffirmed his dedication to the community.
"Customer service is the most important thing we can provide to our community," he said.
"It's important because we're sharing in people's celebrations, we're sharing in people's time of sorrow when someone comes in looking for a sympathy card. It's our pleasure to help people express their feelings to others," said Dorsey.
The store routinely receives high marks in customer surveys. Dorsey's Hallmark is rated in the top ten percent of the top ten percent of Hallmark stores.
The YSVB presents this award to recognize businesses and employees who exhibit the very best of customer service and to encourage others to raise the bar of service standards.
"Customer service is the most important aspect of making a customer feel welcome. If we make our visitors and locals alike feel welcome in our businesses throughout Madera County, we'll see those visitors come back and bring their friends with them," said Jarrod Lyman, Director of PR with the YSVB.
Other Madera County businesses that have received the Excellent in Customer Service award from the YSVB include Shawnda Brooks from Coffee Cats in Chowchilla, Kelsey Crumpton from McDonalds in Oakhurst, The staff at Starbucks of Oakhurst, Joel Platt from The Vineyard in Madera and Ashlee Bullard of Roundtable Pizza in Oakhurst. Sherri Smith of Ravensbrook Bed and Breakfast in Coarsegold, Mike Lagow of Sierra Oak Autobody in Oakhurst and Lisa Bacarisse of The Days Inn in Oakhurst also received a special reward for helping a stranded visitor who's vehicle was involved in an accident.
To nominate a business or employee for the Excellent in Customer Service Award, email your submission to web(at)yosemitethisyear(dot)com or post your submission to the YSVB Facebook at facebook.com/yosemitesierra.