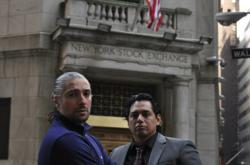 Hollywood, CA (PRWEB) January 23, 2013
The Wall Street "Kings of Debt" are involved pitching a reality TV series in Hollywood that shows how the duo manages to help homeowners save their house even in the middle of a foreclosure crisis.
Ricky Brava and Dean Anastos of Apollo Financial Group specialize in buying underwater and in in-danger-of-foreclosure mortgages and turning the mortgage around so the homeowner can make the payments and stay in the house. Their innovative strategy which covers the USl has attracted attention from across the financial world.
Ted Maier, with Mavrick Talent Agency in Los Angeles, said this is good timing for a show like this.
"The timing is more than right," he said. "I think it is something that includes people on a personal level, even my parents. It's something they may be interested in doing. Everyone knows somebody, family, friend, friend of a friend who may lose their house. A lot of people have been in that situation."
Mr. Maier is assisting Apollo Financial with the production of what the TV industry calls a sizzle reel.
"We're showing the players involved and the tone of the show. This will be a preview or a trailer," he said. "We need a 3-5 minute take on what the show is and who is involved, examples."
Mr. Maier said right now the show can take two directions. It can be a reality show along the lines of Extreme Makeover. He described this as a very positive show and uplifting. "A feel good story," he said.
The second option is more of a documentary.
"Some peoples homes gets saved. What Dean and Ricky do is great, but it doesn't happen all the time," Mr. Maier said. "Show the pros and cons of what is going on out there. Some people are saying 'you are sugar coating this'" unless the bad is shown with the good.
If the sizzle reel gets a good reception in California, the next step is to produce a pilot episode.
"I'll try to help them put it together and package it, maybe produce it. We'll get something good, out it together and get it out," he said.
For their part, the "Kings of Debt" are very excited about the chance to take their business model and what happens when they save a home to a wider audience.
"This is not just about making a profit, although we do try to make a profit," Mr. Brava said. "It's about helping someone save their home. The relief a homeowner has when he knows we're able to help him stay in his house is just amazing. We've had people cry they were so happy,"
"For most people, a home is the largest investment they will ever make. When they stand on the brink of losing that investment and we're able to help them pull back, that's just one of the most amazing feelings ever," Mr. Anastos said. "Putting this into a TV show is going to make even more people feel positive about their ability to buy a home and stay in it."
Swiss model and international celebrity Xenia Tchoumitcheva has expressed an interest in participating in the show as well. Mr. Anastos said they believe someone of Miss Tchoumitcheva appeal will further boost the show.