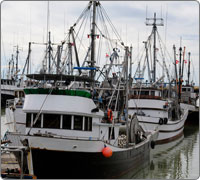 New Orleans, LA (PRWEB) January 23, 2013
Parties filing claims in connection with the BP Deep Water Horizons Oil Spill under the Oil Pollution Act (OPA) are urged to take action quickly. British Petroleum is likely to take the position that the Statute of Limitations will run on April 20, 2013, creating a limited timeframe in which individuals can seek grievances. As it can take up to 90 days for a claim to be presented, any claims should be filed prior to January 20, 2013, out of an abundance of caution. In most cases, in order for a Short Form Joinder, Claim-in-Limitation, lawsuit, or other claim to be considered valid, a "Presentment" must first be made. For help filing a presentment or professional advice on what a presentment generally requires, it's recommended that parties seek legal consultation from an attorney with experience both in this particular area of law and with the BP Oil Spill case.
Understanding the Details of a Presentment
Presentments are made directly to BP's Claims Program. Typically, presentments must provide specific information pertaining to various parts of the claim. These requirements are categorized as following:
A demand for a "sum certain," or accounting of the total dollar amount claimed;
A written description of the claim (such as information on eligibility); and
All supporting documentation on purported losses.
In some instances, individuals may not have to make presentments. For example, parties submitting claims to the DWH Court-supervised Settlement Program are not required to separately present those claims. Likewise, if parties have submitted claims to the Gulf Coast Claims Facility (GCCF), are Economic Class Members and received a final offer from the GCCF, presentment is not required. It is advised that parties consult with an attorney on all matters regarding BP Oil Spill claims under the OPA, however, as there are a variety of laws and specific regulations that govern the claim process. Not having a complete and thorough grasp of these various elements could hinder an individual's ability to successfully recover damages for losses sustained as a result of the BP Oil Spill.
Seeking Legal Counsel
The team at Hammond Law Firm, LLC, led by attorney Peirce Hammond, is uniquely qualified to help individuals filing a claim against BP Oil. Mr. Hammond has extensive experience in both the Louisiana State and Federal Courts, and possesses a comprehensive understanding of the various options available to individuals in this case. He can provide individuals with professional legal counsel, advise them of their options, and help file a claim on their behalf. Urgent action is necessary, however, as the time for presentment is extremely limited if a April 20, 2013 statute deadline is imposed.
Contact Information:
Hammond Law Firm, LLC
650 Poydras Ave., Ste. 1400
New Orleans, LA 70130
504.299.3458