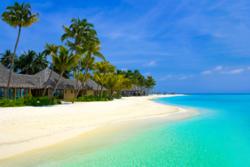 Newport Beach, CA (PRWEB) January 23, 2013
In an interview at the G'Day USA Los Angeles Black Tie Gala, Lindsay Price revealed she wants to keep the wedding small and private so they are planning to tie the knot a location far from home. For couples looking to plan a wedding somewhere far from home, Wedding.com has recently added an entire new section dedicated to destination weddings.
The Lipstick Jungle actress cited that it has been more difficult to plan her wedding since the birth of her now one-year-old son, Hudson, in November 2011 (http://www.eonline.com/news/379284/lindsay-price-planning-destination-wedding-to-curtis-stone-no-dress-picked-out-yet?cmpid=rss-000000-rssfeed-365-topstories&utm_source=eonline&utm_medium=rssfeeds&utm_campaign=rss_topstories).
Price also mentioned that although she loves fashion, the wedding dress has yet to be picked out. Wedding dress shopping can take quite a long process for a busy bride. Add in motherhood, and it becomes increasingly difficult for a bride to find enough time to devote to a wedding dress search.
For brides planning to say their "I do's" abroad, Wedding.com has a brand new section dedicated to assisting couples find and book destination wedding packages for their dream locations. Although planning a destination wedding may seem daunting, but many of these packages include all of the details from the ceremony/reception site, to wedding photographers, to make-up artists.
"Although planning a wedding thousands of miles from home sounds overwhelming, there are many packages available that make the planning process much easier," said Brett Reynolds, CEO of Wedding.com. "Just like Lindsay Price, a destination wedding may be the way to go for couples that want to keep the event intimate."
For more information about Wedding.com and planning a destination wedding, please visit http://www.wedding.com.
About Wedding.com
Wedding.com is an innovative new website that connects engaged couples planning their wedding with wedding vendors looking to grow their business. Wedding.com contacts vendors for couples, giving them the power to compare and negotiate while ultimately saving time and money. With 11,000 couples and 20,000 vendors currently using the website, 87,000 proposals have already been sent since their inception. Vendors range in services from wedding planners, photographers, florists, and DJs to custom invitations, party favors, and much more. For additional information about the company and its services, please visit http://www.wedding.com.