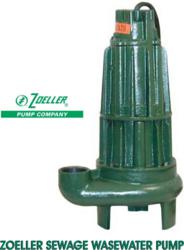 Last year we sold a lot of parts to support pumps already out in the market, often in areas affected by flooding"
Wallington, NJ (PRWEB) January 23, 2013
New Jersey-based pump distributor PumpExpress.com, one of the largest stocking distributors of hydronic pumping equipment in the Northeast, has released its top five list of best selling pumps for 2012 with products by Zoeller topping the list.
"The vast majority of our Zoeller pump sales were large sewage pumps," says Sales Manager Fred Hettinger. "A lot of our customers are in commercial facility, apartment building and warehouse management – all areas where high quality, cast iron sewage pumps are in heavy use. Zoeller puts out a strong product and we stock a lot of it. In 2012 this translated to 30% of our total sales."
Liberty Pumps came in second, supplying 14% of all pumps sold. The Upstate New York-based manufacturer specializes in commercial grade sewage pumps for use in both commercial and residential markets. In 2012 Pump Express began promoting Liberty sewage pumps for their quality design, solid construction and short lead time.
"Liberty keeps everything in stock so customers never wait more than two days for delivery, which has been a strong selling point," says Hettinger. "They have an incredible grinder pump called the Omnivore. I have customers requesting that pump over other grinder pumps at a rate of 3-to-1."
Berkeley irrigation pumps took third place, comprising 13% of sales.
"Our strongest market for Berkley pumps is in the Midwest," says Hettinger. "Berkeley picked a small market and cultivated it. That, coupled with great pricing, make their product very tough to beat."
Armstrong came in fourth, providing 10% of total sales, but was Pump Express's #1 supplier of HVAC equipment.
"Armstrong has done a very good job of creating a product that's as good as other leading brands, but more cost effective," says Hettinger. "When our customers are looking to buy a new pump, they'll often choose an Armstrong pump. By comparison, Bell & Gossett pumps tend to be more economical to repair than to replace."
Bell & Gossett rounded out the top five, comprising 8% of Pump Express sales in 2012.
"B & G has been a leading name in HVAC equipment across the Northeast for 60 years. Last year we sold a lot of parts to support pumps already out in the market, often in areas affected by flooding."
While Sandy gave a major boost to the sale of sump pumps and other flood remediation equipment in 2012, the sluggish economy continued to temper large commercial and industrial pump sales.
"We sold a lot of pump parts because we have the knowledge and expertise to match the parts to a customer's product. Replacing a $300 pump is one thing, a $6,000 pump is one you're going to try and repair. In the last year we've increased the parts we stock for Armstrong pumps, Bell & Gossett pumps and Taco pumps because the demand is so strong."
Company Information
Pump Express is a New Jersey-based distributor and national service facility for the world's leading manufacturers of pumps and equipment used in the commercial, industrial, residential, and utility markets. Pump Express application engineers work with clients to select equipment custom fit for their applications. To learn more about Pump Express, visit http://www.pumpexpress.com or call 1-800-298-4100.