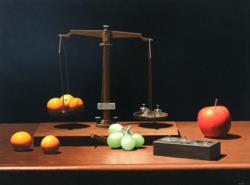 Charlotte, NC (PRWEB) January 23, 2013
Renato Meziat
McColl Fine Art is proud to represent Brazilian artist, Renato Meziat at their gallery. They will be carrying thirteen of Meziat's paintings, eleven of which are still-life; a style which Meziat is most recognized for. Although his work has only recently been introduced to North America, his paintings have already had great success in International auctions. His paintings are in private collections throughout North and South America.
Meziat started out as a musician and studied at the renowned Berklee College of Music in Boston. He later switched his focus to painting after being influenced by his father, who was also a painter.
Renato Meziat's paintings reveal an immense technical ability allied to a penetrating pictorial intelligence. A self-taught painter, Meziat's technical proficiency is all the more impressive for being the result of years of trial and error and intense observation. His still-life paintings have an elegant simplicity, classically arranged against pure deep monochromatic backgrounds. In all of his still life paintings, Meziat sees and allows us to see with a transforming luminous clarity.
He has said, he wants his work to affect people the way his first artistic love of music did. He says, "I don't want to make people think. I want to make paintings so beautiful that when people see them they just can't think of anything else."
McColl Fine Art can offer more information about Meziat and the paintings they will be carrying, as well as their collection of additional 19th century art. Please visit http://www.mccollfineart.com.
About the company:
McColl Fine Art is one of the premier art galleries in the country. Located at 126 Cottage Place in Charlotte, NC, McColl Fine Art specializes in fine American and European paintings with a primary focus on select works from the 19th and early 20th Centuries as well as Classical Contemporary works of art. They offer works of exceptional quality from periods including the Barbizon School, the Hudson River School, Academic painting, Impressionism and Post-Impressionism. For more information visit their website at http://www.mccollfineart.com.