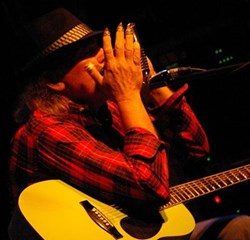 One of the Finest American guitar players on the road today...

Jim Reed
Savannah Connect
Asheville, NC (PRWEB) January 24, 2013
Find Eric Sommer at the center of the dial.
The Asheville radio dial, that is. And that radio dial is set to The Asheville Radio Cafe, right in the heart of Asheville, NC. The program on Saturday, January 26th around 8pm or so is: "An Evening with Eric Sommer at The Asheville Radio Cafe".
The show features Eric Sommer and a collection of cheap, old guitars, pawn shop amplifiers and a few well-worn harmonicas.
"Old" and "cheap" and "pawn shop" shouldn't fool anyone. The fact is there is nothing old, cheap or pawn shop about this American poet, songster and guitar player, unless it's the miles on a Chevy truck (430,000), the immaculate imagery of perfectly crafted songs and a talent on all things stringed - in this case, 7-8 guitars that range from cheap $65 mail order "seafoam green" Jay Jr.'s up to a few well worn Bob Taylor models plus a weathered-n-worked Telecaster from 1969 with the original "horseshoe" Bigsby vibrato bar.
On the road continuously now for the past bunch of years - is it 5 or 15? - Mr. Sommer is one of the few authentically American traveling troubadours left out there in the vast American landscape. In the classic mold of Jerry Jeff Walker, Merle Haggard and Waylon Jennings, Eric Sommer maintaines a purity of purpose and a clarity of vision regarding the American musical landscape.
Mr. Sommers' songs describe a dark, moody underbelly of continual dissatisfaction, stark contrasts and personal collapse, a region somewhere between the Waffle House in Bangor, ME at 4am and the bus stop in Toledo where a classic 1951 Shure mic was purchased from a hobo for $20. Or was it at a flea market in Ann Arbor?
Talking to Mr. Sommer, one isn't all that sure where the road ends and the highway begins. It's as if this artist is constantly running for the next bus, the last train or looking for the free coffee. But one thing is very, very clear: with a guitar and a mic, Eric Sommer is, hands down, one of the best there is, one of the best of the best.
Welcome to Asheville, Eric Sommer.
The trip to the Asheville Radio Cafe in Asheville, NC, this Saturday, January 26th around 8pm or so, will be well worth it. The Asheville Radio Cafe is located at 81 Patton Avenue, Asheville 28801 and may be reached at 828-242-3573
For Music Samples please visit CDBaby or Eric Sommer online for additional schedules or contact him at eric(at)ericsommer(dot)com or call 202-255-1995. Additionally, you can find Eric Sommer on Facebook, too.
Eric Sommer is represented by Clyde is Thinking, and PR programs are managed thru MTG/NY; Clyde is Thinking is a small boutique management agency located in London with offices around the United States.