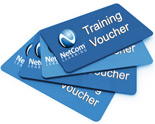 We are very excited to be able to offer these different savings plans to organizations so they can save on their employee training costs and more easily track return on investment for training.
New York, NY (PRWEB) January 24, 2013
NetCom Learning announces its new and exciting corporate training solution that provides top quality with a variety of economical solutions. The Corporate Training Solution partners with corporations and other organizations to provide them with access to programs such as Training Voucher Packs, a Training Savings Pass (TSP), and the use of Microsoft Software Assurance Training Vouchers and access to private training for their employees.
"We are very excited to be able to offer these different savings plans to organizations so they can save on their employee training costs and more easily track return on investment for training," said Russell Sarder, CEO of NetCom Learning.

Microsoft Software Assurance Training Vouchers
Companies can use any Microsoft Software Assurance Training Vouchers (SATVs) that they may have purchased with a volume license to Microsoft software for any Microsoft It Professional and Developer classes offered through NetCom Learning. By using SATVs companies can lower their out of pocket training budget and take full advantage of the investment made in Microsoft products.
NetCom Learning is dedicated to providing whatever type of training works for an organization, whether that is a traditional classroom setting, or online training or private training. In a private training, NetCom Learning will customize and tailor the training sessions. A NetCom Learning Consultant is always available to discuss training needs and to offer training discounts for private training from 10-30% off regular class rates.
The corporate Training Savings Pass gives corporations and other organizations increased buying power for IT and business training for their company employees. Under the Training Savings Pass program organizations can prepay for training and NetCom Learning matches a percentage of the investment based on the amount of pre-paid training. For example, purchasing purchase a training investment of $150,000, NetCom Learning doubles the investment in NetCom Learning classes providing with $300,000 in training. The Training Savings Pass is especially helpful for learners that need training across several different disciplines.
Training Voucher Packs is an economical way to train staff. Training Vouchers can be purchased in packs of 3, 5, 10, 20, and 50. Purchasing Training Vouchers allows organizations to save money on training, while locking in savings at current prices. Training Vouchers can be used in conjunction with certain Volume Licensing Programs.
Both the Training Voucher Packs and Training Savings Passes provide organizations with a customized reporting tool where companies can track educational spending and employee training progress. This allows corporations to easily access information they can use for tracking their Return on Investment (ROI). Employees can also register for classes using the NetCom Learning online registration portal. Both Voucher Packs and Savings Passes can be used for a percentage of private training. Organizations can choose from multiple delivery methods including standard classes, Boot Camps, Online and Onsite training. There is also a reduced rate to the NetCom Learning's Video Library. Certain restrictions do apply.
NetCom Learning has trained more than 80 percent of the Fortune 100 and more than 71,000 professionals, since its inception in 1998. The organization is an innovative leader in IT, business and executive training serving companies, individuals, and government agencies, including over 45,500 business customers. The high quality of training has resulted in over 1,700 positive testimonials and a 96% customer satisfaction rate.
NetCom Learning partners with more than 20 top vendors, including Microsoft, Cisco, CompTIA, EC-Council, Adobe, and Autodesk Training Center. NetCom Learning's excellence in training earned the company the Microsoft Worldwide Learning Solutions Partner of the Year as well as numerous other training awards for quality and customer satisfaction. NetCom Learning was also named to the 2012 Top 20 IT Training Companies by TrainingIndustry.com and was named "Company of thby the American Business Awards. NetCom Learning has been listed in the Inc. 500/5000 list of fastest growing companies in America for three years.
For more information on any of NetCom Learning's corporate training packages contact NetCom Learning at 1-888-563-8266 or visit http://www.netcomlearning.com/aboutnetcom/whynetcom.phtml?advid=412
About NetCom Learning
NetCom Learning is an innovative leader in IT, business and executive training to companies, individuals, and government agencies. Since its inception in 1998, NetCom Learning has trained over 80 percent of the Fortune 100, serviced over 45,500 business customers, and advanced the skills of more than 71,000 professionals through hands-on, expert-led training, with the organization maintaining an average instructor evaluation score of 8.6 out of 9. NetCom Learning was recognized by Microsoft Corporation as its Worldwide Training Partner of the Year and named thrice to Inc. Magazine's list of fastest growing private companies in America. The organization was also recently named to the 2012 Top 20 IT Training Companies by TrainingIndustry.com and was named "Company of the Year" by the American Business Awards.
The purpose of NetCom Learning is to promote the values of lifelong learning