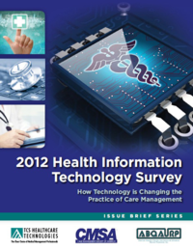 Leveraging these new technologies should remain a high priority in terms of public health and reduced medical costs.
Auburn, CA and Little Rock, AR (PRWEB) January 23, 2013
Three leading organizations in the health care field are hosting a complimentary webinar to reveal major findings from the 2012 Health Information Technology Survey. TCS Healthcare Technologies (TCS), the Case Management Society of America (CMSA), and the American Board of Quality Assurance and Utilization Review Physicians, Inc. (ABQAURP) have teamed together for the third time to sponsor the survey, which examines how various health IT applications are changing the care management field.
The webinar, scheduled for February 5, 2013 at 12:00 p.m. EST, will reveal major trends in the following areas that impact care management:
•IT Infrastructure
•Caseloads
•Data Analytics/ROI
•Satisfaction Rates
•Adoption Curve
This webinar will reveal several trend lines and emerging patterns in health IT use and perception based on results of not only the new 2012 study, but the findings of similar surveys completed in 2010 and 2008.
Presenters include: Rob Pock (moderator), TCS founder and CEO; Joel V. Brill, MD, AGAF, CHCQM, member, board of directors, ABQAURP; Cheri Lattimer, RN, BSN, executive director, CMSA; and Pat Stricker, RN, MEd, VP of clinical services, TCS.
Cheri Lattimer, RN, BSN, executive director of CMSA, says this webinar will showcase groundbreaking research. "As patients become more engaged in using technology, the health care industry needs to keep pace. Emerging technology applications must completely transform the practice of care management and integrate patients and family care givers in the practice. To our knowledge, no other research has been done in this area with this level of detail."
New platforms for communication continue to evolve in the health care segment, posing immense opportunities to expand patient care and enhance patient/provider relationships, but also to further boost the quality and accuracy of care.
"Leveraging these new technologies should remain a high priority in terms of public health and reduced medical costs," Lattimer notes.
"If you are involved in the practice of care management or involved with health information technology, this is a must-attend event," says Rob Pock, TCS founder and CEO, webinar moderator. "The three surveys conducted over the past five years represent the largest research effort to put tangible assessments on the opportunities and challenges associated with IT innovations in the care management arena."
Specifically, the study drills down to the nuts and bolts of health information systems and how they are affecting care management software applications and related IT functions – specifically, "how applications are being used by patients, providers, payors, care managers, and others to support emerging themes, such as transitions of care and social media," Pock says.
"The growth and evolution of health IT systems to support patient-centric care management is a welcome development," says Joel Brill, MD, AGAF, CHCQM, ABQAURP board member and webinar presenter. "With more commercial and governmental payors supporting payment for transitional care and efforts to decrease readmissions and unnecessary services, we believe interoperability to support care coordination between payors and multiple practice sites will be the next frontier."
Interested participants can go to http://www.gotomeeting.com/register/485164898 to register for this free webinar.
In addition to the webinars, a series of reports will be released in coming months that will feature in-depth analysis of the 2012 Health IT Survey results by trend, as well as year-to-year comparison of findings. Webinar registrants will be notified when the briefs are released and will be available by logging on to http://www.tcshealthcare.com. The first few reports will be released in the next month – stay tuned for further announcements.
# # #
About the Co-Sponsors
American Board of Quality Assurance and Utilization Review Physicians, Inc. (ABQAURP), is a non-profit education and certification board that has certified over 9,800 physicians, nurses and other health care professionals in Health Care Quality Management (HCQM) and Patient Safety. Established in 1977, ABQAURP is the nation's largest organization of interdisciplinary healthcare professionals. ABQAURP is accredited by the Accreditation Council for Continuing Medical Education (ACCME) as a provider of Continuing Medical Education, and by the Florida Board of Nursing as a provider of Nursing Credit.
For more information: (800) 998-6030; http://www.abqaurp.org
Case Management Society of America (CMSA), established in 1990, is the leading non-profit association dedicated to the support and development of the profession of case management. CMSA serves more than 11,000 members, 20,000 subscribers, and 75 chapters through educational forums, networking opportunities, legislative advocacy and establishing standards to advance the profession.
For more information: http://www.cmsa.org; Twitter @CMSANational
TCS Healthcare Technologies (TCS) is a leading provider of software and clinical solutions that support and improve population health management strategies for health plans, insurers, providers, third-party administrators, medical management companies, and others. TCS is recognized as one of the premier health care software companies in the United States designing, offering, and hosting a number of products and services. The TCS Acuity Advanced Care® application provides a comprehensive and integrated care management software system for Utilization Management (UM), Case Management (CM), Disease Management (DM), and Prevention/Wellness (PW) services. For more information: (530) 886-1700 ext. 211; http://www.tcshealthcare.com