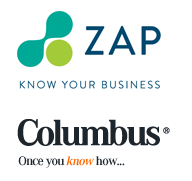 ZAP provides Columbus the ability to prototype a customer's expected outcomes in hours and supports our need for repeatable, robust industry solutions
San Francisco, CA (PRWEB) January 23, 2013
Columbus, a leading global provider of Microsoft Dynamics ERP, MRP and CRM solutions for the mid-market and enterprise customers, announced today a strategic partnership with ZAP, an award-winning Business Intelligence (BI) provider. This new partnership will strengthen Columbus's footprint in the Microsoft Dynamics market by providing their new and existing enterprise Microsoft Dynamics AX, NAV and CRM customers with the increased ability to extract value from their ERP and CRM investment.
ZAP's business intelligence solution for Microsoft Dynamics AX, CRM and NAV provides a "buy, not build" approach to ensure a rapid return on investment that includes hundreds of pre-packaged analytics out of the box. Everything an organization needs to get up and running immediately – a wizard to automatically identify customizations and create the data layer for fast deployment, a web-based interface and comprehensive functionality that covers all reporting and analysis – all provided in one solution.
ZAP will work alongside Columbus to align industry content for specific vertical industries such as food, industrial equipment and automotive manufacturing.
"ZAP provides Columbus the ability to prototype a customer's expected outcomes in hours and supports our need for repeatable, robust industry solutions. We have standardized on ZAP as our go-to BI solution of choice, specifically for our manufacturing and automotive customers" commented Mark Labelle, SVP of Sales Operations at Columbus US, "The partnership between ZAP and Columbus delivers in every sense."
ZAP's President of North America, Garth D. Laird, said of the partnership "Partnering with Columbus is an incredible opportunity for the ZAP team. Columbus is one of the largest and most successful of all Microsoft Dynamics consultancies globally and has for many years achieved the highest accomplishments seen in this business sector. With progressive management and a real desire to grow, Columbus is working to bring superior solutions to market. Acknowledging that customers now expect Business Intelligence to be integrated to solutions they purchase, the selection by Columbus of Zap continues to support the investment that we are making around the Dynamics suite of solutions and the massive benefits that this is creating for customers."
About Columbus
With solid industry know-how, Columbus is a preferred business partner for ambitious companies within the food, retail and manufacturing sectors. Columbus' key deliverables include flexible and future-safe ERP, CRM, BI and related business applications that deliver competitive advantage. We know how to adapt and implement our proven Microsoft-based solution sets to maximize efficiency and overall business performance – for immediate impact. Exceeding 20 years of experience and 6,000 successful implementations, Columbus currently employs over 1,000 dedicated staff working out of 38 offices in 18 countries.
More information: http://www.columbusglobal.com/en-US/
About ZAP
ZAP creates business intelligence (BI) solutions that help improve corporate performance. Our software is based on the Microsoft SQL Server® platform and is used globally by mid-market and enterprise organizations across most major industries. Zap also offers a range of out-of-the-box analytics for Microsoft Dynamics AX, NAV and CRM. ZAP has won numerous Microsoft awards including Microsoft ISV/Software solutions Partner of the Year, and Microsoft Country Partner of the Year. Headquartered in San Francisco, CA, ZAP has offices worldwide. For more information, visit http://www.zaptechnology.com