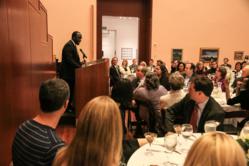 (PRWEB) January 23, 2013
More than 160 Waterford School parents, friends, faculty and alumni gathered on Saturday, January 12, at the Utah Museum of Fine Arts, to raise funds for the school's scholarship program. "A Winter Evening for Scholarship" was the evening's theme and $60,000 was raised, including a matching grant by the I.J. and Jeanne Wagner Charitable Foundation.
Attendees enjoyed a student art exhibition, and a serenade by the Waterford Upper School Chamber Octet and Waterford Troubadours. The evening featured a speech by Dr. Thomas Clark, the Founder and Executive Director of Grassroots Soccer, as well as a talk by Ian Thompson, a former Waterford scholarship recipient, who went on to obtain a degree from Harvard University.
The Waterford School's scholarship program began in 1994, when the faculty joined together to fund the first Upper School student scholarship. Since that time, the scholarship fund has steadily grown with parent, faculty, alumni and corporate support. In 2012-13, 22 Waterford students will benefit from the scholarship program, amounting to $406,150 in scholarship aid.
The Waterford School is a private liberal arts, college-preparatory school located in Sandy, Utah, for students in preschool through grade 12.