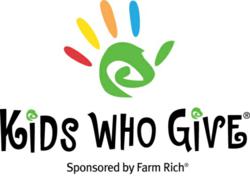 ST. SIMONS ISLAND, Ga. (PRWEB) January 23, 2013
The 2012 quarterly winners of Kids Who Give (http://www.kidswhogive.com), sponsored by Farm Rich, are eligible to win a $10,000 grand prize via an online voting competition that runs now through Feb. 5, 2013. The grand prize winner will be announced by Feb. 12, 2013.
The public can vote until Feb. 5 for any of the 2012 quarterly winners at http://kidswhogive.com/vote-on-entries/ (one vote allowed per individual per day). The finalists for the Kids Who Give grand prize include:
•Rohan Chandra, 17, Fremont, Calif. – Developed and distributed a multi-lingual safety instruction guide to senior citizens in the San Francisco area through his Earthquake Preparedness for Seniors project.
•Neha Gupta, 16, Yardley, Pa. – Founded Empower Orphans, a nonprofit that provides education and healthcare to orphaned and disadvantaged children around the world.
•Yash Gupta, 16, Irvine, Calif. – Donated thousands of eyeglasses and organized several eye clinics for patients in need through his nonprofit, Sight Learning.
•Mary Grace Henry, 16, Harrison, N.Y. – Founded Reverse the Course, through which she sells handmade hair accessories to fund the education of girls in Third World countries.
•Nicholas Lowinger, 14, Cranston, R.I. – Started the Gotta Have Sole Foundation, which has donated thousands of pairs of shoes to children in need.
•Jordyn Schara, 17, North Freedom, Wis. – Lead the Wisconsin Prescription Pill and Drug Disposal project through her nonprofit, Foundation HOPE (Helping Our Peers Excel).
•Sejal Vallabh, 17, Newton, Mass. – Founded Tennis Serves, a student-run nonprofit through which sighted high school and college volunteers teach tennis at blind schools across the country.
•Max Wallack, 16, Natick, Mass. – Designed a line of puzzles specifically for Alzheimer's patients and distributed these puzzles to thousands of facilities through his nonprofit, Puzzles To Remember.
•Christopher Yao, 15, Jericho, N.Y. – Started Kids Change the World, a nonprofit that provides young people with the tools they need to change the lives of other children around the globe.
Kids Who Give (http://www.kidswhogive.com) is a national program that celebrates young people, ages 7-17, who dedicate their time and energy to improving the lives of others. Quarterly winners were awarded with contributions to their favorite causes and are eligible to win the grand prize of $10,000.
"We love supporting these kids' causes and letting more people know about the amazing work they do," said Megan Grinstead, marketing manager for Farm Rich. "We can't wait to see who the public picks as our grand prize winner!"
About Farm Rich
A leading brand of Rich Products Corporation, Farm Rich (http://www.farmrich.com) is based in St. Simons Island, Ga., and features a successful portfolio of frozen snacks and appetizer products sold at grocery and club stores nationwide. Featuring the tagline, "Keep 'em Happy," Farm Rich makes wholesome, great-tasting snacks that are sure to please family and friends. More at http://www.farmrich.com.
# # #