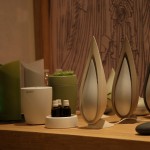 The ability to launch our new line of luxury aromatherapy products at the NY Gift Fair gives us a great platform to showcase the new line.
New York, NY (PRWEB) January 23, 2013
Established in 1995, Puzhen Life USA introduced the Lotus, the world's first ultrasonic aroma diffuser. A line of high-end essential oils from France, rare organic Pu-er teas and hand-crafted Song ceramics followed. Puzhen aims to restore simplicity, purity and harmony to everyday life. These products provide balance and relieve stress by combining traditional Chinese culture and modern science. Puzhen aroma diffusers help achieve equilibrium of body, mind and spirit to create a sense of relief in your life.
The Puzhen brand was inspired by a belief in a contemporary and modern lifestyle complemented by traditional Chinese crafts, philosophy and aesthetics. Puzhen products support and generate this unique lifestyle to result in a better, simpler, and higher quality living environment.
The concept of Puzhen Life's product lines are based on ancient Chinese traditions and culture. Puzhen Life introduces a simple, high-quality, and natural way of living to the modern world. Traditional Chinese cultural products can benefit your physical and mental health while engaging the five senses. Using traditional Chinese craftsmanship allows Puzhen to embrace the techniques and methods used thousands of years to produce exquisite products to meet the demands of today's modern world. Find traditional Chinese craftsmanship across the full line of aromatherapy products, Jun porcelain, and ceramics. Traditional Chinese craftsmanship provides attention to detail and stimulation for the five senses.
Stop by the Puzhen Life USA booth, numbers #7446 and #7444, and check out these new lines of aroma diffusers, essential oils, Pu-er teas and Song ceramics.
Puzhen products are featured in the Trump International Hotel & Tower, the Mandarin Oriental Hotel and the Peninsula Hotel in New York City. To find out more please visit: http://www.puzhen.com