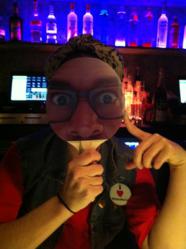 Austin, TX (PRWEB) January 23, 2013
Following a successful Kickstarter campaign and launch of their online store in November 2012, Uberpong.com now allows users to create premium, custom ping pong paddles.
Uberpong has teamed up with the School of Invention to develop a production process and high quality printing technique. Uberpong is stepping in to change the game by personalizing and customizing the heart of the game: the ping pong paddle. The Austin based startup aims to enhance the game by allowing customers to have any design printed on their ping pong paddles.
"We wanted to be a company that is known for listening to its customers and community members. When we got early feedback from customers asking us to launch a section of the site for custom ping pong paddles, we had to make it happen. Now you can have any design you want printed on your paddle so you can play with style," said David Lowe, Uberpong Founder and CEO. He continued to say that Uberpong has some surprises for 2013 including a patent pending concept "that will change the game forever." All will become clear soon. Uberpong can also handle promotional product requests from advertising specialty companies.
Each custom paddle is $80 and can be created here: http://uberpong.com/custom-paddles
About Uberpong
Uberpong (http://www.uberpong.com) is a startup company with the goal of revolutionizing the game of ping pong. By mixing the sport of table tennis with graphic design and art, Uberpong hopes to individualize and personalize the sport. Uberpong currently has 17 designer ping pong paddles available on their site. If you are a graphic designer and would like to join the Uberpong design community, please go here: http://uberpong.com/join-the-design-community/
Uberpong Media Relations:
David Lowe
dave(at)uberpong(dot)com