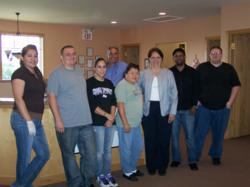 Mary Vierling, Office Manager says, "It's very nice to be able to utilize my training, skills and experience right here in my home town."
St. Paul, Minnesota (PRWEB) January 31, 2013
Tramonto Circuits was recently chosen Member of the week by the Greater Stillwater Chamber of Commerce. The company's participation in the community and local chamber will be highlighted in the chamber's newsletter, on their website and distributed to over 1,200 subscribers. Tramonto Circuits has been a proud part of the community since it was founded in 2008 and is pleased to be a featured company.
The company is a worldwide supplier of Flexible and Rigid Circuit Boards.The leadership team at Tramonto Circuits has always looked first to the local community when hiring new positions. It proves easier to build a family like atmosphere at the workplace when its employees are all part of the same community. Although Tramonto Circuits has customers worldwide including the United States, Canada, the UK, Malaysia, Taiwan, China and more, the atmosphere at the company is still that of a family run business. Some of the employees have been a part of the Stillwater community for decades and have seen the landscape change from mainly farmland 25 years ago to what is now a thriving area for schools, restaurants, retail and manufacturers. Mary Vierling, Office Manager says, "It's very nice to be able to utilize my training, skills and experience right here in my home town."
The story will focus on Tramonto Circuits' products and services as well as discuss personal topics about why the company was founded and founded in this area. The Greater Stillwater area thrives because of the people and companies that reside here. Tramonto Circuits is proud to be one of them!
ABOUT Tramonto Circuits:
The mission of Tramonto Circuits is "To consistently provide its customers with high quality electronic products and services that meet or exceed their expectations." A manufacturer of flexible & rigid printed circuits, Tramonto provides circuits and assemblies to Original Equipment Manufacturers worldwide.