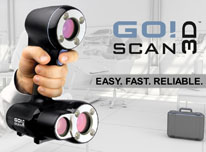 We're very excited about our partnership with Creaform and the opportunity to provide additional, cutting-edge solutions to new and existing customers in our licensed areas.
Nashville, Tenn. (PRWEB) January 24, 2013
NovaCopy, Inc., a leading provider of innovative 3D Printer systems and document workflow solutions, today announced an agreement with Creaform, Inc. to provide cutting-edge 3D scanning technology to businesses in Tennessee, Texas, Alabama, Kentucky and Mississippi.
Designated a Creaform Channel Partner, NovaCopy will add fast, easy and reliable portable scanning systems to their existing arsenal of 3D Printer solutions. Creaform 3D scanners are the tool of choice throughout many industries including aerospace, transportation, manufacturing, energy, research, education and consumer products.
"Creaform scanning technology guarantees a quick, simple, reliable as well as affordable means for customers to enhance their 3D printing and prototyping processes," said NovaCopy's President of 3D Printer Solutions, Melissa Ragsdale. "We're very excited about our partnership with Creaform and the opportunity to provide additional, cutting-edge solutions to new and existing customers in our licensed areas."
3D scanners are used in reverse engineering processes or product development whereby an object is scanned into a digital file so it can be manipulated. These systems, such as the GO!SCAN and Handyscan 3D scanners, can be used by anyone, without requiring prior experience, and provides visual guidance as one scans through real-time visualization and ongoing positioning assistance. Creaform's portable 3D scanners feature TRUaccuracy technology that guarantees accuracy no matter the environment, part set-up or the user's level of experience.
"Combining Creaform's cutting edge technology with NovaCopy's offer to the industry not only will support an already fast growth for both organizations, but first and foremost, combining 3D scanners and 3D printers in a single, well integrated and supported solution brings shelter against threats from low cost markets," said Creaform's Vice-President of Sales for the Americas, Stephane Galibois. "Having NovaCopy become one of the most recent Channel Partners for Creaform not only is another step in this direction, but a conscious effort to provide the industry with a complete solution to ensure these challenges and goals are met: quick time to market, reduced cost related to incorrect first-time design iterations, and enhanced design flexibility allowing for greater creative freedom."
3D technology is rapidly expanding on a daily basis and generating 3D digital data that can be converted into a digital model quickly and efficiently is key to increased savings for most businesses.
"In today's fast moving economy, with development budgets shrinking every year, and with ever shortened product development cycle times, the need for tools to accelerate design and improve 'right first time' rates has become a do or die condition to stay in business," Galibos said. "We can only do it with tools that allow us to deliver faster, better and less costly product development projects. We just can't work harder to remain the leader, we have to work smarter."
# # #
About NovaCopy, Inc.
NovaCopy is a full-service provider of 3D Printer technology and innovative document workflow solutions. One of Konica Minolta's top tier copier dealers in the United States, as well as an Inc. 500/5000 company, NovaCopy offers free cost analysis so you may easily choose the exact solutions, equipment, accessories and software to meet your needs – within your budget. For more information, please visit: http://www.NovaCopy.com. Follow NovaCopy on Facebook and Twitter for all the latest news.