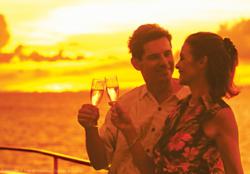 Honolulu, HI (PRWEB) January 22, 2013
For an extraordinary Valentine's Day, romantic or casual, couples should fall for a Star of Honolulu or Starlite Waikiki dinner cruise. The 1,500-passenger Star of Honolulu is Hawaii's most desirable, with four decks and four packages to choose from. Departing at 5:30 p.m. from Aloha Tower Marketplace, all include steak and seafood dinners with special Valentine's Day dessert, live Hawaiian entertainment and the best view of the sunset and Waikiki coastline from the Star of Honolulu's 60-foot-high observation deck. The Star of Honolulu is also Hawaii's only A.D.A. compliant ship. For a more casual evening, the 149-passenger Starlite Waikiki departs at 6:15 p.m. from Kewalo Basin and sails toward Diamond Head with a welcome Mai Tai, BBQ dinner freshly grilled onboard and rose for each lady. Cruise without dinner is also available for those who believe "all you need is love."
Packages start at $87.16 per adult on the Star of Honolulu and $55.56 per adult on the Starlite Waikiki, offered on Valentine's Day, Thursday, February 14, 2013 only. For more information or reservations, please call toll-free at 1-800-334-6191 or visit http://www.starofhonolulu.com. In Hawaii, dial (808) 983-STAR (7827). Kama'aina and local military rates are available via phone or in person only, with valid Hawaii I.D.