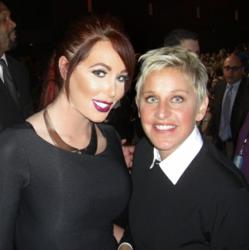 2013 is shaping up to be a phenomenal year
Hollywood, California (PRWEB) January 24, 2013
Jenna Bentley - famous FHM, Playboy and Maxim cover model's new song "Smoke That" featuring rap legend Luther "Uncle Luke" Campbell debuted in front of massive crowds in Columbia, Panama, Brazil, Ecuador, and Peru.
Prominent DJ's, DJ Koi & DJ Queen premiered 'Smoke That' in front of crowds that totaled over 30,000 in Central and South America.
"DJ Queen, was the first DJ that premiered Jenna's song in Columbia at a huge concert with attendance surpassing 19,000 in party goers. "Smoke That" was a great success and made the party goers go wild." States DJ Koi. "Days later I played the Song in Brazil and premiered the song at a festival called "The Day After" in front of 17,000 people. "Smoke That" is a huge success here and I have been playing at all my shows. There is great demand for the song and I look forward to Jenna's album!"
"Smoke That" will be available in February 2013 on iTunes. The song is produced by four time Grammy awarding winning producer and writer, Jason "Poo Bear" Boyd & The Audibiels.
Jenna Bentley also attended the 39th People's Choice awards. The People's Choice Awards was held January 9, 2013 at the Nokia Theatre in Los Angeles, California, and was broadcast live on CBS. There, Jenna mingled with celebrities Sandra Bullock, Quinton Aaron, Anthony Anderson, and Ellen DeGeneres.
"2013 is shaping up to be a phenomenal year. My debut release is right around the corner and I'm so excited!" States Jenna Bentley."I've been attending award shows like the People's Choice Awards and other prestigious events and working on philanthropic projects. It's an exciting time to be Jenna Bentley and I cannot wait to see the reaction of my Bentley Babes when I release 'Smoke That.'"
About Jenna Bentley
Jenna Bentley is a multi-talented model/actress/dancer and aspiring hip hop artist. Jenna Bentley was born and raised in Billings, Montana where she founded a small dance school and participated in beauty pageants. Jenna was discovered for her stunningly beautiful looks at court side during a SUNS vs. Celtics basketball game by a boutique Scottsdale modeling Agency. Ms. Bentley was hesitant at first; but with her background in singing, music, dance, choreography, as well as beauty pageants she decided to take a chance and sign with the agency.
Her career has been a whirlwind success ever since. In just over a year she, was featured as cover model on more than a dozen magazine covers. Jenna Bentley shot the cover of FHM Magazine, and have been featured in Maxim, SI Magazine, and have worked with famed Sports Illustrated photographer Antoine Verlgas.
Jenna Bentley is a triple threat with modeling, acting and hip hop credits under her belt. Ms. Bentley has appeared on hit shows CSI, Law and Order, Entourage and many others. And now, Ms. Bentley is working on her debut hip hop album which she currently writing and producing.
For more information about Jenna Bentley:
http://www.facebook.com/jbmusic101
http://www.twitter.com/jennabentley07
http://www.youtube.com/jennabentley07