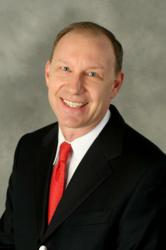 Falls Church, VA (PRWEB) January 23, 2013
William V. Dougherty, III, D.D.S, can now replace missing teeth using only four implants for a complete arch of permanent dentures with the All-On-4 procedure. The implants may be placed where the bone mass is dense enough to hold them, which makes placement flexible. Using this procedure means that bone grafting will not be necessary prior to dental implants, and can save patients money over the cost of individual implants.
All-On-4 is a technique devised to aid patients who are missing teeth by giving them a full set of teeth. Whether a patient currently has dentures or not, if teeth are missing the jawbone has begun to deteriorate. For people who want dental implants, it is important that a sufficient bone density is present so that the titanium implant can integrate with it for strength. If there is not enough bone mass, a bone graft may be necessary prior to installing the implants. With the All-On-4 technique, the entire upper or lower arch of teeth can be installed on only four implants. In most cases, the dentist can select the densest areas of bone for the implants so that bone grafting is not necessary.
The procedure is very straightforward and begins with anesthetic to numb the patient. Four implants are installed fairly evenly around the teeth line at locations where there is the greatest bone mass. A set of temporary teeth will be attached to the implants the day of the implant surgery. The four dental implants will integrate with the bone as it heals over time, usually about three to four months. Once the healing is complete, the temporary teeth are removed and the procedure culminates with a full set of teeth that are permanently anchored to the implants.
The new set of dentures is not removable, and will not slip and click the way traditional sets often do. Because it is permanent, oral hygiene and care is simplified. The implant supported device is designed to look like natural teeth and provides one with the ability to eat normally. The implants will continue to stimulate bone regeneration, which helps to stabilize the jaw bone density. The patient walks away with a new, stronger set of teeth designed for the long-term. More information on the All-On-4 procedure and implants may be found at http://www.doughertylaserdentistry.com.
William V. Dougherty, III, DDS, is a general dentist offering patients personalized dental care for Falls Church, VA. He is part of one percent of dental professionals providing the most recent FDA cleared laser procedure for gum disease and periodontal treatment. To learn more about William V. Dougherty, III, DDS and his dental services visit his website at http://www.doughertylaserdentistry.com.