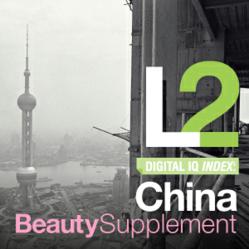 "If China is the epicenter of growth in beauty, e-commerce is ground zero. In 2012, 17 percent of luxury cosmetics were purchased online versus 5-7 percent in mature markets."
New York, NY (PRWEB) January 23, 2013
Estée Lauder and Lancôme earned the top two spots in L2's inaugural Digital IQ Index®: China Beauty Supplement. The only two brands to achieve Genius status in the report -- and repeating their same one-two finish from our 2012 Digital IQ Index®: Beauty study -- Estée Lauder and Lancôme have established themselves as digital leaders in an industry rife with competition. This inaugural supplement, authored by Scott Galloway, NYU Stern Clinical Professor of Marketing, and a team of researchers at L2 Think Tank, benchmarks the digital competence of 20 global Beauty brands in the Chinese market.
Download the full rankings and key highlights from the report:
http://www.l2thinktank.com/research/china-beauty-supplement-2013/
Top 20 Digital IQ Ranking:
1. Estée Lauder
2. Lancôme
3. Benefit Cosmetics 4. Clarins
4. Shiseido
6. Sephora
7. Chanel
8. Kiehl's
9. Biotherm
10. SK-II
11. Herborist 12. Clinique
13. Bobbi Brown 14. Origins
15. Dior
16. MAC
17. L'Occitane
18. Guerlain
19. Yue-Sai
20. Elizabeth Arden
"If China is the epicenter of growth in beauty, e-commerce is ground zero. In 2012 17 percent of luxury cosmetics were purchased online versus 5-7 percent in mature markets." -Maureen Mullen, Head of Research & Advisory, L2 Think Tank
Supplement Highlights:
Beauty Leads: Beauty outperforms other prestige categories online in China. The average Digital IQ of Beauty brands is 63 percent higher than that of the weakest category, Fashion. Beauty is also the only prestige vertical with a positive YOY Digital IQ uptick.
Strong Sites: Of the brands analyzed in the supplement, 80 percent now sell online in China and 90 percent provide country-specific customer service. Three-quarters of Beauty brand sites show product prices in RMB currency and offer user reviews and ratings, and almost half support live chat.
Seriously Social: All 20 brands are active on Sina Weibo, and half are active on Kaixin. All but two brands are present on at least two social media networks, with some, like top-ranked Estée Lauder and third-ranked Benefit, far exceeding this with a presence on six and seven platforms, respectively.
Video Void: Beauty brands are missing an opportunity to leverage China's popular video platforms. While 60 percent of brands have a presence on either Youkou or Tudou, and almost two-thirds have uploaded content to their channels, Beauty brands' views are still relatively low.
Digital IQ Index®: China Beauty Supplement Methodology
L2 evaluated 20 Beauty brands on more than 800 China-specific data points across four dimensions: Site, Digital Marketing, Social Media, and Mobile.
About L2
L2 is a think tank for digital innovation. Founded by NYU Stern Clinical Professor of Marketing Scott Galloway, L2 helps prestige brands navigate the digital marketing landscape through events, research, and advisory services. The L2 Digital IQ Index® is the global, seminal benchmark for digital performance of brands and the largest and most robust study of its kind. Rankings are published annually across industries including Fashion, Specialty Retail, Sportswear, Watches & Jewelry, Beauty, Travel, and Fragrance. For more information, visit: http://www.l2thinktank.com
###