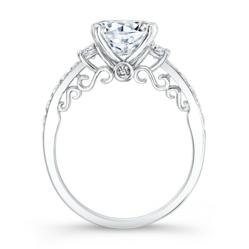 Los Angeles, CA (PRWEB) January 23, 2013
Already responsible for introducing some of the world's most beautiful engagement rings, Natalie K wants to let existing customers and newcomers to fine jewelry know about the new items recently released into the company's Renaissance Collection.
The Natalie K Renaissance Collection:
Inspired by the romance of by-gone days, Natalie K's Renaissance Collection brings delicate and sophisticated old-world appeal to contemporary jewelry for trend-setting women of today. From simple shanks that look complex to elaborately-designed profiles that speak of opulence, this collection of vintage-style jewelry is perfect for passing down to future generations. With fine quality diamonds and superior craftsmanship, the Natalie K Renaissance Collection satisfies discerning new brides and ordinary women all over the world.
These four glittering new diamond engagement rings have recently been added to the Renaissance Collection. The NK26640-W engagement ring features a beautiful diamond-studded split-shank with an air of elegant sophistication. The center mounting sports two round white diamonds resting on either side of the ring's large, showcase-quality center stone. The NK25790-W ring also offers a beautifully-designed split-shank, but with a difference in its design and the larger amount of diamonds. The ring also has brilliant center stone shining from an elegant bezel setting to catch the eye of onlookers everywhere.
By contrast, the NK26633-W engagement ring is a more delicate piece for a delicate bride. It comes with a diamond-covered shank underneath a deceptively slender center mounting with an intricately styled gallery. A similar design but bolder, the NK26641-W ring boasts a low center mounting and a diamond encrusted shank. These accents make for the perfect accompaniments to a glittering white diamond-covered gallery.
About Natalie K:
For over three decades, Natalie K has positively influenced the fashion and designer jewelry industry. Set apart from other jewelry makers by unwavering craftsmanship and attention to aesthetic design, jewelry by Natalie K catapults wearers into the realm of high fashion. To learn more, contact Natalie K at info@nataliek.com or visit the company's website, http://www.nataliek.com