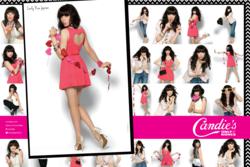 New York, NY (PRWEB) January 23, 2013
Singer/songwriter and breakout pop sensation Carly Rae Jepsen will appear in Candie's®, Only at Kohl's Spring 2013 multi-media marketing campaign. Candie's is sold exclusively at Kohl's Department Stores nationwide and Kohls.com. Carly joins the elite list of Candie's superstar spokeswomen including Britney Spears, Fergie, Lea Michele and others.
Carly has taken America by storm after bursting onto the scene in the US with her chart topping single "Call Me Maybe." Unforgettably catchy, the hit song which she co-wrote, had the No. 1 spot on the Billboard Hot 100 chart where it remained for nine consecutive weeks. "Call Me Maybe" is also an international sensation, climbing to No. 1 on the iTunes Singles charts in over 37 countries, spawning over 400 million YouTube views and inspiring other stars including, Justin Bieber, Katy Perry, James Franco and even the Cookie Monster to create their own viral videos.
"I feel very honored to be the next Candie's girl," Carly Rae Jepsen stated. "It's a dream come true to be in the company of such amazing women! The photo-shoot was really fun because it was so different- I'm actually the photographer as well and can't wait to share it with my fans!"
The concept for the campaign is unique because it was photographed by Carly herself using a portable photobooth. This is the first time a celebrity spokesperson has shot their own fashion campaign. Carly playfully snapped pictures of herself posing in front of the photo booth and even picked her own fun props to create a carefree and flirty campaign.
Dari Marder, chief marketing officer, Iconix Brand Group stated, "Carly is a pop culture phenomenon and our Candie's customers feels like she's their best friend. She's relatable, but her lifestyle is completely aspirational to them. This junior customer is also obsessed with Instagram, so we loved the idea of letting Carly go wild and shoot her own pictures in a photo booth we had on set."
Carly will make personal appearances on behalf of the brand throughout the year as well as host events for Candie's and Kohl's. The multi-media campaign will debut in March issues of fashion and lifestyle magazines such as Seventeen, People StyleWatch, Teen Vogue and Cosmopolitan, as well as online, outdoor and in Kohl's marketing vehicles. The campaign was shot in Los Angeles at Siren Studios.
"We're proud to feature pop icon Carly Rae Jepsen in the 2013 Candie's Only at Kohl's campaign," said Nancy Carruth, senior vice president of marketing brand management for Kohl's Department Stores. "Stylish, confident and relevant, Jepsen personifies the Candie's brand. We are certain she will resonate with our young shoppers who demand exceptional style at an incredible value."
Carly was recently named Billboard's 2012 Rising Star, New Artist of the Year at the 2012 American Music Awards®, and has also received two Grammy® nominations for Song of the Year and Best Pop Solo Performance for the upcoming 55th annual awards. Carly's eagerly anticipated U.S. debut album Kiss is out now and she is currently touring with Justin Bieber as a very special guest on the multi-platinum Pop/R&B star's headlining Believe tour of North America.
About Iconix Brand Group, Inc.
Iconix Brand Group, Inc. owns, licenses and markets a growing portfolio of consumer brands including: CANDIE'S (R), BONGO (R), BADGLEY MISCHKA (R), JOE BOXER (R), RAMPAGE (R), MUDD (R), MOSSIMO (R), LONDON FOG (R), OCEAN PACIFIC (R), DANSKIN (R), ROCAWEAR (R), CANNON (R), ROYAL VELVET (R), FIELDCREST (R), CHARISMA (R), STARTER (R), WAVERLY (R), ZOO YORK (R), ED HARDY (R), SHARPER IMAGE (R) and UMBRO (R). In addition, Iconix owns interests in the ARTFUL DODGER (R), ECKO (R), MARC ECKO (R), MATERIAL GIRL (R), PEANUTS (R) and TRUTH OR DARE (R) brands. The Company licenses its brands to a network of leading retailers and manufacturers that touch every major segment of retail distribution from the luxury market to the mass market in both the U.S. and worldwide. Through its in-house business development, merchandising, advertising and public relations departments Iconix manages its brands to drive greater consumer awareness and equity
About Kohl's Department Stores.
Based in Menomonee Falls, Wis., Kohl's is a family-focused, value-oriented specialty department store offering moderately priced, exclusive and national brand apparel, shoes, accessories, beauty and home products in an exciting shopping environment. With a commitment to environmental leadership, Kohl's operates 1,146 stores in 49 states. In support of the communities it serves, Kohl's has raised more than $208 million for children's initiatives nationwide through its Kohl's Cares® cause merchandise program, which operates under Kohl's Cares, LLC, a wholly-owned subsidiary of Kohl's Department Stores, Inc. For a list of store locations and information, or for the added convenience of shopping online, visit http://www.Kohls.com, or join the discussion on Facebook http://www.facebook.com/kohls or Twitter http://twitter.com/Kohls.