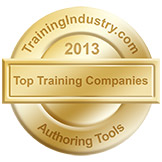 We take great pride in our pursuit to fully empower people to build powerful learning experiences, and are grateful for the acknowledgement.
Minneapolis/St. Paul, Minn. (PRWEB) January 23, 2013
Allen Interactions Inc., an internationally acclaimed custom learning design, development and strategic consulting firm, announces its product, ZebraZapps, has been named to TrainingIndustry.com's 2013 Top 20 Authoring Tool's List.
The list recognizes the best providers of authoring tools in the training industry. TrainingIndustry.com compiles the annual list through reviews, surveys, and constant monitoring of the training tools marketplace. The list is designed to help organizations in their search for the right training partners and products.
Selection to this year's Top 20 Authoring Tools Companies was based on the following criteria:

Leadership and innovation
Features and capabilities of the authoring tools
Company size and growth potential
Company focus on the authoring platforms
Strength and number of clients/users
Geographic reach
"We selected a strong group of companies whose tools proved a great combination of capabilities and features that allow for both rapid and high quality course development," said Ken Taylor, COO of TrainingIndustry.com.
"We are honored to have been named to this year's list of top authoring tools," states Christopher Allen, Product Marketing Manager for ZebraZapps, "We take great pride in our pursuit to fully empower people to build powerful learning experiences, and are grateful for the acknowledgement."
This month Allen Interactions announced the Professional version of its pioneering cloud-based e-learning authoring and publishing system, ZebraZapps. This new e-learning software gives developers and non-programmers the ability to effectively educate and train their audiences via rich interactive multimedia for a wide range of applications – including organizational e-learning courses, corporate training, student built apps in flipped classrooms, social engagement apps, and games – via a totally visual interface that requires no programming code to be written.
ZebraZapps Professional is available for $39.95 per month, while ZebraZapps Creator is available for $8.95 per month. For additional information, please visit http://www.zebrazapps.com.
About TrainingIndustry.com
TrainingIndustry.com spotlights the latest news, articles, case studies, and best practices within the training industry. Its focus is on helping dedicated business and training professionals get the information, insight, and tools needed to more effectively manage the business of learning.
About Allen Interactions Inc.
Allen Interactions is an internationally acclaimed company focused on improving performance through powerful learning experiences. For 20 years, Allen Interactions has designed and developed custom e-learning and blended learning solutions to address the widely-varied performance goals of the world's leading organizations. With a wealth of experience and a track record of success in instructional design, technology, creativity, process, and project management, Allen Interactions consistently achieves positive business impact. For more information visit: alleninteractions.com.
In 2009, the company established Allen Learning Technologies to create a revolutionary, cloud-based authoring and publishing system ZebraZapps, which allows developers and non-programmers to create rich interactive media applications easily and quickly, as well as share, publish, and sell reusable learning objects or entire applications. The first release of ZebraZapps was made available late 2011. For more information visit: zebrazapps.com.