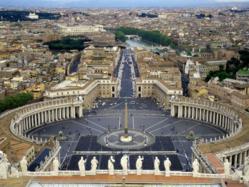 We know how much more convenient it is to have everything booked and paid for before you arrive at the museum
Chicago, IL (PRWEB) January 23, 2013
While media all over the world report on the cash-only policy established at the box office of the Holy See, Select Italy announces that tickets can still be purchased for Italy's most popular attraction with few clicks and a credit card on http://Selectitaly.com.
The box offices at the Vatican have been cash-only since Jan. 1 after Italy's central bank compelled Deutsche Bank Italia to stop providing electronic payment services to the Holy See. That has meant visitors to the Vatican Museums and the Vatican post office have had to pay cash for tickets and any other transactions.
Select Italy, a destination management company offering, one of the most complete and reliable ticketing service for Italian museum tickets, as well as access to the major Italian opera houses and train tickets for Italian high-speed trains among other travel services, announced that it is able to accept credit cards payment for admission to Holy See attractions such as the Vatican Museums, St. Peter Basilica and the Sistine Chapel.
The online travel company, with headquarters in Chicago but serving travelers worldwide thanks to its multicultural and multilingual staff, is untouched from the recent controversy that has forced the Vatican to accept cash-only payments, making it impossible to pay with credit and debit card for admission to the popular sites.
"Travelers heading to the Vatican don't need cash...just internet connectivity. We know how much more convenient it is to have everything booked and paid for before you arrive at the museum, so Select Italy is thrilled to offer travelers worldwide the ability to purchase Vatican museum tickets with your credit card before you arrive in Rome," says Justin Anderson, Manager of Operations & Client Services at Select Italy. "Through our special relationship with the Vatican, we can take your payment with our convenient and secure online platforms, then procure your tickets with the Vatican and send a copy of the voucher directly to your email. Once you arrive on site, the only cash you will need is for an audio guide, if desired, and any souvenirs you wish to purchase."
With almost five million visitors annually, the Vatican is the most visited attraction in Italy. Select Italy offers advance ticket purchase to avoid long lines and guarantee entrance to the Sistine Chapel and Vatican Museums both for independent and guided visits, either with private tour or shared group tour. From May until October, Select Italy offers also a suggestive suggestive tour of the Vatican Museums at night.
To book Vatican Museums and Sistine Chapel Tickets for more information visit the website Selectitaly.com or contact a Select Italy's Consultant at 800.877.1755 or 001 312.664.4200 internationally.