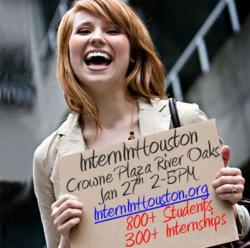 Houston, TX (PRWEB) January 23, 2013
College recruiting is dominated by large employers. This means students may miss out on the 75% of jobs recently added to the economy by the small businesses, startups, and nonprofits of Houston. This also means small businesses don't have the same access to student talent for internships and entry-level positions. That's why Mayor Parker, the Office of Business Opportunity, and a dozen local agencies, chambers, and organizations, along with 13 colleges and universities, the Governor's office and campus2careers.com have collaborated to create InternInHouston, a new program to connect area students with local employers for internships all year.
InternInHouston is an important educational and economic development initiative for the Mayor's office. "Through InternInHouston, one of the largest business communities in the country can take part in our local education system by engaging an intern during the school year" said Mayor Annise Parker. "Through internships, students can develop the skills our workforce needs, while our economy benefits from their energy, education, and enthusiasm all year."
The Office of Business Opportunity is one of the community partners helping to spearhead InternInHouston. "The City of Houston is always looking for ways to provide our business owners with a competitive advantage, and our student population is one of them" says Carlecia Wright, the Director for the Office of Business Opportunity. "This program will help small businesses access extra, educated talent, while exposing students to the backbone of our economy. Our next small business owner will be interning this semester through InternInHouston, and learning first-hand how to start and grow a company."
Schools including Rice, University of Houston, Devry, Lamar and more are participating in InternInHouston as well. Career Centers are sharing program information with their students and recommending they pursue an internship this Spring, not just during the Summer. "It's never too early to intern" says Jessica Campbell, Associate Director for Employer Relations at Rice University. "We advise freshmen to start thinking about internships during orientation. It's a very competitive job environment right now, and a relevant internship on a resume can help a student land a job or a higher starting salary. We are so excited to participate in InternInHouston."
The InternInHouston program includes a website (http://www.InternInHouston.org) with best practice tools and templates to help employers develop an effective, annual internship program and a fair each semester to connect small businesses, startups, and nonprofits in the region with area students all year. The first InternInHouston fair will be this Sunday, January 27th from 2:00-5:00PM at the Crowne Plaza Houston River Oaks. To register, go to http://www.InternInHouston.org. Only the first 125 employers and 800 students to register for the fair will be able to attend. If you have any questions about the program, contact the organizers at info@campus2careers.com
About campus2careers
campus2careers is the host of InternInHouston and the first site to connect small to mid-sized employers with college students and recent grads for internships, part-time work or full-time jobs. Using preferences and skills-based matching, campus2careers helps employers find their "best fit" candidates from schools across TX, saving time and money while improving the quality of hire.